Name: Li Bing Bing
Native name: 李冰冰
Given name: Li Bingbing
Also Known as: 冰冰; 莲花; 囧莲; 李御姐
Nationality: Chinese
Gender: Female
Born: February 27, 1973
Age: 46
Li Bingbing (born February 27, 1976 in Harbin, Heilongjiang) is a Chinese actress and singer.
Li had no intention of becoming an actress initially and enrolled specifically in a high school for prospective school teachers. However, upon graduation, she discovered her interest in acting and was eventually persuaded by a friend to join the Shanghai Drama Institute in 1993.
Her film debut was Zhang Yuan's Seventeen Years (1999), which won her the "Best Actress" Award in the 1999 Singapore Film Festival. In 2001, Li starred in the television series Young Justice Bao, which propelled her to become one of the most famous actresses in China. That year she was awarded the title of one of the "Top Ten Best TV actors/actresses in China". From then on, Li was approbated as an "action actress" as she starred in a number of wuxia television dramas, such as Taiji Prodigy and Eight Heroes.
In 2004, Li starred in the romantic comedy film Waiting Alone, which received three Chinese Academy Award nominations, including Best Picture and Best Actress. That same year, Li won the title of "The Most Popular Actress" at the 12th Beijing College Film Festival. She went on to star in Feng Xiaogang's A World Without Thieves, which earned her a nomination for "Best Supporting Actress" Award at the 2005 Golden Rooster Awards.
Li won the "Best Actress" Awards at the 2007 Huabiao Awards and at the 2008 Hundred Flowers Awards for her performance in The Knot; the film is also China's entry for the Best Foreign Film award at the 2008 Academy Awards. She also co-starred with Jet Li and Jackie Chan in the 2008 film The Forbidden Kingdom as the White-haired Witch Ni-chang. In November 2009, Li won the Best Leading Actress Award at the 46th Golden Horse Film Awards for her role in the espionage spy thriller The Message.
Li's most recent notable performance is for the role of Shangguan Jing'er in Tsui Hark's 2010 film Detective Dee and the Mystery of the Phantom Flame; her character in this movie is loosely based on Shangguan Wan'er, a poet, writer and politician of the Tang Dynasty. Her first-time leading role in an English language film is Wayne Wang's 2011 Snow Flower and the Secret Fan, a film adaptation from Lisa See's 2005 novel of the same title. She will also co-star and co-produce with Jackie Chan in 1911, which will be released in September 2011 to celebrate the 100th anniversary of the Xinhai Revolution.
Li is a UNEP Goodwill Ambassador, WWF Earth Hour Global Ambassador, and Ambassador of Korean Culture in China.
[wikipedia]
Drama
Title
Rating
Another Lifetime of Fate - The Legend of Meng Li Ju

Chinese Drama,

2007

, 42 eps

8.4

Hui Niang Wan Xin

Chinese Drama,

2006

, 31 eps

0.0

Liao Zhai Zhi Yi

Chinese Drama,

2005

, 36 eps

7.7

Eight Heroes

Hong Kong Drama,

2005

, 40 eps

7.8

City of Sky

Taiwanese Drama,

2004

, 20 eps

Yu Bo Han / Xiao Ruo Ning

(Main Role)

6.9

The Sea's Promise

Chinese Drama,

2004

, 1 eps

0.0

Taiji Prodigy

Taiwanese Drama,

2002

, 40 eps

7.3

Smart Kid

Chinese Drama,

2001

, 30 eps

8.1

Palace of Desire

Chinese Drama,

2000

, 40 eps

Princess An Le

(Support Role)

9.0

Young Justice Bao

Chinese Drama,

2000

, 40 eps

7.8
Movie
Title
Rating
Realm of the Tiger

0.0

Guardians of the Tomb

5.7

Zhong Kui: Snow Girl and the Dark Crystal

6.9

I do

7.4

China 1911

7.0

Snow Flower and the Secret Fan

7.7

Detective Dee and the Mystery of the Phantom Flame

7.6

The Message

8.0

The Forbidden Kingdom

Ni-Chang / the White-Haired Witch

(Support Role)

8.0

Linger

6.8

The Knot

7.3

Dragon Squad

6.1

Wait 'Til You're Older

[Kwong's Mom]

(Support Role)

7.7

A World Without Thieves

8.0

Waiting Alone

7.2

Silver Hawk

6.6

Cat and Mouse

Ding Yuehua

(Support Role)

6.1
TV Show
Title
Rating
Back to field

Chinese TV Show,

2017

, 14 eps

9.0
Articles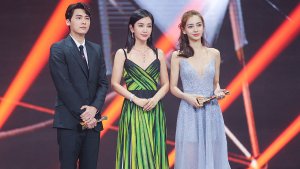 Editorials

- Feb 10, 2018
Let's check out the winners of 2017 Weibo Awards and who were the best dressed celebrities from the red carpet!