Name: Yamashita Kenjiro
Native name: 山下健二郎
Also Known as: Yamashita Kenjirou
Nationality: Japanese
Gender: Male
Born: May 24, 1985
Age: 34
Kenjiro graduated from EXPG Osaka School and used to work as a dance instructor.
His performance skills attracted attention and thus he has participated in EXILE's tours since 2007.
In 2010, he appeared in Gekidan EXILE JUNCTION #1"NIGHT BALLET". He was in charge of the choreography and his acting and performance received high evaluations.
In September 2010, he joined Sandaime J Soul Brothers as a performer and made his debut with "Best Friend's Girl" in November.
Apart from his accomplishments as a performer, he also works as an actor, a radio program MC and an event MC to explore other possibilities in entertainment.
(source: ldh.co.jp)
Drama
Title
Rating
HiGH&LOW THE WORST EPISODE.0

Japanese Drama,

2019

, 6 eps

Dan Kazuya

(Support Role)

7.8

Game mitai ni ikanai.

Japanese Drama,

2019

, 8 eps

Aramaki Hirohiko

(Main Role)

0.0

Love or Not 2

Japanese Drama,

2018

, 6 eps

0.0

Gakeppuchi Hotel: Today's guest is Mr. Naoya Ukai

Japanese Drama,

2018

, 2 eps

Kasatani Shotaro

(Support Role)

8.0

Gakeppuchi Hotel

Japanese Drama,

2018

, 10 eps

Kasatani Shotaro [new employee] (Ep.10)

(Guest Role)

7.6

Manga Mitai ni Ikanai

Japanese Drama,

2017

, 10 eps

Aramaki Hirohiko

(Support Role)

6.9

Love or Not

Japanese Drama,

2017

, 10 eps

8.3

Fukuyado Honpo - Kyoto Love Story

Japanese Drama,

2016

, 12 eps

Hinoyama Kaoru

(Main Role)

7.9

HiGH&LOW SEASON 2

Japanese Drama,

2016

, 10 eps

8.3

HiGH&LOW

Japanese Drama,

2015

, 10 eps

8.4

Napoleon no Mura

Japanese Drama,

2015

, 7 eps

Misaki Naoto

(Support Role)

7.5

Aruhi, Ahiru Bus

Japanese Drama,

2015

, 8 eps

Namiki Kosuke [editor]

(Support Role)

8.4

Frenemy - Dobunezumi no Machi

Japanese Drama,

2013

, 12 eps

Jogasaki Kenichi

(Support Role)

6.9
Movie
Title
Rating
Mellow

0.0

Hachioji Zombies

0.0

DTC Yukemuri Junjo-hen from HiGH&LOW

9.1

Pan to Bus to 2-dome no Hatsukoi

Yuasa Tamotsu

(Main Role)

6.7

HiGH&LOW The Movie 3: FINAL MISSION

Dan Kazuya

(Support Role)

8.7

HiGH&LOW The Movie 2: END OF SKY

8.7

HiGH&LOW: The Red Rain

Dan Kazuya

(Support Role)

8.4

HiGH&LOW The Movie

8.5

Road To HiGH&LOW

8.2
Special
Title
Rating
HiGH&LOW THE DTC

Japanese Special,

2018

, 11 eps

8.0
TV Show
Title
Rating
Buzz Rhythm

Japanese TV Show,

2015

, 0 eps

0.0

EXILE Casino

Japanese TV Show,

2014

, 0 eps

9.3

Ningen Kansatsu Variety Monitoring

Japanese TV Show,

2012

, 0 eps

7.5

Shabekuri 007

Japanese TV Show,

2008

, 400 eps

8.9

MUSIC STATION

Japanese TV Show,

1986

, 1328 eps

9.0
Articles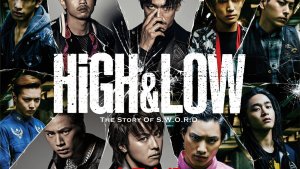 Drama Recaps

- Jun 18, 2018
Old Anime Lady's overview of the High & Low Franchise