Name: Song Wei Long
Native name: 宋威龙
Also Known as: 宋世全;Song Shi Quan;Long Long;Xiao Long
Nationality: Chinese
Gender: Male
Born: March 25, 1999
Age: 19
Song Wei Long is a Chinese actor and model.
Song was born in the city of Dalian, Liaoning Province, raised in a loving family with two older sisters. At age 9, Song Weilong developed an interest in classic martial arts after watching the action movie The New Legend of Shaolin starring Jet Li. He tried out and learned Kung Fu for a year in junior high school, and later enrolled in Shaolin Tagou Martial Arts School of the Henan Province
In 2016, he starred in his first drama, Demon Girl II. The same year, he was cast in the Chinese-South Korean production Catman. He was also cast in youth film Passage of My Youth produced by Hong Kong cinematographer Cheung Ka-fai and teen romance film Fleeting Midsummer.
In 2017, Song starred in fantasy romance drama Long For You, adapted from the comic "The Distance of Light Between You and Me". The series achieved 1 billion views throughout its run. The same year, he was also cast in the youth melodrama Beautiful Reborn Flower opposite Lin Yun. Later on, he has won both for Newcomer of the Year (14th Esquire Man At His Best Awards) and New Male Artist of the Year (Tencent Video Star Awards)
In 2018, Song starred opposite Guan Xiaotong in the historical drama Untouchable Lovers. He is also set to star in the adventure film, Dream Breaker.
(Credits: Wiki)
Drama
Title
Rating
Find Yourself

Chinese Drama,

2019

, 40 eps

0.0

Corner with Love

Chinese Drama,

2018

, 45 eps

0.0

Beautiful Reborn Flower

Chinese Drama,

2018

, 60 eps

0.0

Untouchable Lovers

Chinese Drama,

2018

, 52 eps

7.9

Long For You

Chinese Drama,

2017

, 20 eps

7.7

Demon Girl 2

Chinese Drama,

2016

, 20 eps

7.6

Demon Girl

Chinese Drama,

2016

, 20 eps

7.6
Movie
TV Show
Title
Rating
Give Me Five 2

Chinese TV Show,

2018

, 12 eps

8.7

Happy Camp

Chinese TV Show,

1997

, 1039 eps

(Ep. 986, 1029, 1040)

(Guest)

9.1
Articles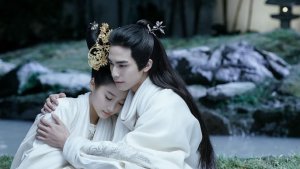 See which Asian dramas will air this winter!