Name: Ichikawa Ebizo
Native name: 十一代目市川海老蔵
Given name: Horikoshi Takatoshi
Also Known as: Juichidaime Ichikawa Ebizo ; Ichikawa Ebizo XI ; Ichikawa Shinnosuke VII
Nationality: Japanese
Gender: Male
Born: December 6, 1977
Age: 41
Ichikawa Ebizō XI is the eleventh and current holder of the Ebizō name. He is a famous Kabuki, television and film actor and heir to the prestigious Ichikawa clan of kabuki actors.
The son of Danjūrō XII, he was born in Tokyo and began his career at the age of six in a 1983 play of Genji Monogatari. In 1985 he was bestowed the name Shinnosuke VII and continued to perform in kabuki under this name until 2003. He made his first television appearance in 1994 in the NHK Taiga drama, Hanna no Ran, which starred his father.
In 2002-2003, he had a starring television role as the great samurai, Miyamoto Musashi, in the NHK drama, Musashi. After the series ended, he starred again as the great warrior in a kabuki drama. He would go on to take part in several plays before his name was changed to Ebizō XI in May 2004.
He has appeared in several commercials, and in his first film role, Deguchi no Nai Umi, (Sea With No Exit) in 2006. He toured Europe, Australia and various other prefectures in Japan doing kabuki. In 2007 he was awarded the L'Ordre des Arts et des Lettres after a performance at the Palais Garnier in Paris. A total of twelve performances of Yoshitsune Senbon Zakura by the Shochiku Grand Kabuki featuring Ebizō were held at Sadler's Wells Theatre in London from June 4 to 15, 2010.
On November 25, 2010, he was assaulted in the early morning hours while out drinking with Kabuka friends in Tokyo's Nishi-Azabu area. According to the Japanese press, he forced the man to drink tequila from an ashtray. Ebizō returned home, where his wife Mao Kobayashi discovered his wounds, which included a depressed fracture to a cheekbone and severe bruising, and called the police, after which he was rushed to Toranomon Hospital. As a result of the injuries suffered there was speculation that Ebizō may have had to retire, being unable to do the cross-eyed nirami glare important in kabuki leads. Theatre operator Shochiku suspended him from kabuki as a result of the incident.
He starred in Takashi Miike's 2011 3D remake of Hara-Kiri. On July 2, 2011, Ebizõ returned to the stage at the July Grand Kabuki performance at the Shinbashi playhouse in Tokyo. ~~~ Wikipedia
Drama
Title
Rating
Suits

Japanese Drama,

2018

, 11 eps

Sawada Hitoshi (Ep.10-11)

(Guest Role)

8.1

Onna Joushu Naotora

Japanese Drama,

2017

, 50 eps

Oda Nobunaga

(Support Role)

8.2

Ishikawa Goemon

Japanese Drama,

2016

, 8 eps

Ishikawa Goemon

(Main Role)

9.0

Yowakutemo Katemasu

Japanese Drama,

2014

, 11 eps

Yachida Kentaro

(Support Role)

7.6

MR. BRAIN

Japanese Drama,

2009

, 8 eps

Kohei Takei/Ep 1, 7 & 8

(Support Role)

8.3

Musashi

Japanese Drama,

2003

, 49 eps

Miyamoto Musashi

(Main Role)

7.6
Movie
Title
Rating
Blade of the Immortal

Shizuma Eiku

(Support Role)

7.7

Over Your Dead Body

Lemon / Kosuke Hasegawa

(Main Role)

6.8

Rikyu ni Tazuneyo

7.4

Hara-Kiri: Death of a Samurai

Hanshiro Tsugumo

(Main Role)

7.8

Space Battleship Yamato

7.2

Sea Without Limit

7.4
Special
Articles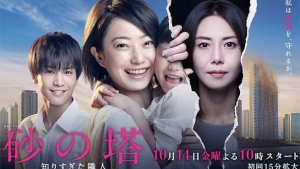 Looking for something new to watch? Have a look at this preview of upcoming Japanese fall season dramas!