Name: Tosaka Hiroomi
Native name: 登坂広臣
Also Known as: Omi;
Nationality: Japanese
Gender: Male
Born: March 12, 1987
Age: 32
Hiroomi Tosaka, born March 12th, 1987 is a Japanese singer and actor. He is most known as being a member of Exile and a vocalist of the Japanese dance group "Sandaime J Soul Brothers". Hiroomi was born in Hamura, Tokyo, Japan.
(Source: DramaWiki)
Drama
Title
Rating
HiGH&LOW SEASON 2

Japanese Drama,

2016

, 10 eps

Amamiya Hiroto

(Support Role)

8.4

HiGH&LOW

Japanese Drama,

2015

, 10 eps

Amamiya Hiroto

(Support Role)

8.4
Movie
Title
Rating
Snow Flower

Yusuke Watabiki

(Main Role)

7.9

HiGH&LOW The Movie 3: FINAL MISSION

Hiroto Amamiya

(Main Role)

8.7

HiGH&LOW The Movie 2: END OF SKY

Hiroto Amamiya

(Support Role)

8.7

HiGH&LOW: The Red Rain

Amamiya Hiroto

(Main Role)

8.4

HiGH&LOW The Movie

Amamiya Hiroto

(Support Role)

8.5

Road To HiGH&LOW

8.2

Hot Road

Hiroshi Haruyama

(Main Role)

7.9
TV Show
Title
Rating
Buzz Rhythm

Japanese TV Show,

2015

, 0 eps

0.0

EXILE Casino

Japanese TV Show,

2014

, 0 eps

9.3

Ningen Kansatsu Variety Monitoring

Japanese TV Show,

2012

, 0 eps

7.5

Shabekuri 007

Japanese TV Show,

2008

, 400 eps

8.9

Vs Arashi

Japanese TV Show,

2008

, 489 eps

9.1

MUSIC STATION

Japanese TV Show,

1986

, 1328 eps

9.0
Articles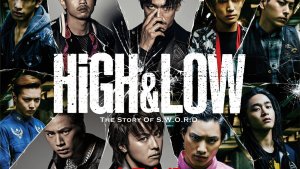 Drama Recaps

- Jun 18, 2018
Old Anime Lady's overview of the High & Low Franchise