Name: Natapohn Tameeruks
Native name: ณฐพร เตมีรักษ์
Also Known as: Taew;แต้ว;Taew Natapohn Tameeruks;Nathaphon Temirak;Nataporn Taemeeruk
Nationality: Thai
Gender: Female
Born: February 6, 1989
Age: 30
Natapohn Tameeruks (Nickname: Taew) is a Thai actress of Chinese-Thai parentage who works for Channel 3. She rose to prominence after her appearance with other two Chinese performers Yi Jian Lian and Liu Yi Fei in a Television advertisement for the biggest Chinese Dairy producer ZH:内蒙古伊利. She became an internet phenomenon for young Chinese netizens. She graduated in Architecture from Chulalongkorn University. She has been in a relationship with Ton Arch Lhaisakul for 12 years.
(Source: AsianFuse Wiki)
Articles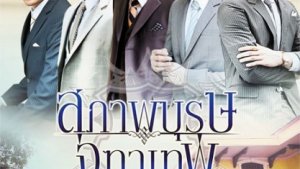 Editorials

- Jun 23, 2014
Are you in the mood for some great romantic Thai lakorns?dramalover123 introduces you the five lakorns of the Suparburoot Juthatep Series. Read inside for more details.