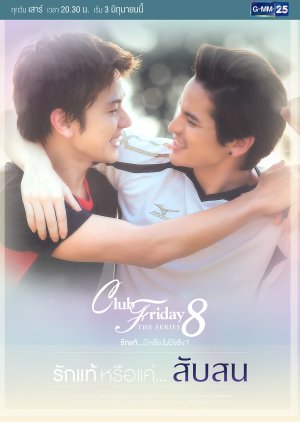 Out of the Club Friday Stories that I've watched with a gay theme, this is easily my favorite out of them all. I almost did not watch this drama
because Tao who plays Todd, annoys me with his pencil thin excuse of a mustache (I'm quirky like that). But after watching a few episodes I got used to it, (I just used one eye to look at him). And Toni who plays Meng is a hot tamale and his chemistry with Tao/Todd is sizzling hot.

Speaking of which, I have to give both of these actors credit, as Tao managed to make me want to punch him in the face because of his childish antics. He played the role of a free-spirited rambunctious guy who does nothing but cause trouble for Meng. But when push comes to shove, Tao as Todd delivers and becomes the responsible adult that sometimes Nuch wished he was. Toni was also believable as the conflicted Meng, who believes he is doing everyone a favor by being nice. On one hand, Meng tries to cater to his girlfriend's unreasonable whims, and yet on the other, he tries to keep his best friend Tod close to his hip whenever Nuch is not watching. Nuch, meanwhile, is really annoying as the bitchy and jealous girlfriend who does not seem to think about other people except herself. I was so annoyed that I wanted to boot her to the curb faster than you can say "sayonara."

The story is interesting as it took me through a journey where I also felt confused about the actions that Meng took, because it seemed to me he was the center of the drama, and also the center of the problem as he could not seem to make up his mind about what he wanted. It looks to me that he wanted his cake and eat it too, but we all know that couldn't happen. The story however left me hanging and felt that it was not resolved either way, but maybe it is a good thing and this is one of those dramas that I am OK with an ending that is up to interpretation.




Was this review helpful to you?