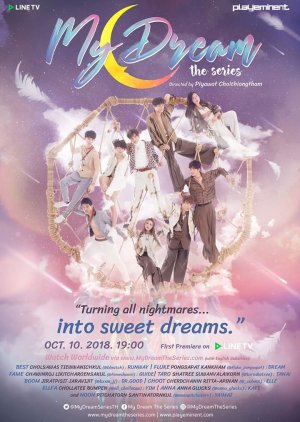 Great Potential But Suffered from Slow Pacing
STORY:
My initial excitement for this drama fell by the wayside as the series progressed. Although the writers presented several interesting and unique concepts, they suffered noticeably in execution. As a result, the series became somewhat of a mess that left me wanting more. The pacing was horribly slow, with lots of silence in each episode, creating a very stagnant story line with very little plot development. I don't mind a bit of silence as a creative decision to set the tone, but if you're going to do it, then I need both the silence and every bit of dialogue to be important and push the story forward significantly. I didn't get that with this series. And I know that with tight, skilled writing, a lot can be said in a small period of time, as I've seen fantastic dramas with half the number of episodes able to deliver rich, compelling stories (Obsessed, Right or Wrong, Boundary Crossing, Gay Ok Bangkok, etc.). The story here wasn't terrible, but I just feel that with 12 episodes at their disposal, the brains behind My Dream could have given us a bit more.

Next, although some parts of the fantasy story line were fleshed out (albeit not nearly enough), the main story between Runway and Dream took a back seat to everything else in the drama, which was a bit surprising given the synopsis. In addition, some scenes that seemed important lacked sufficient exploration; there were also scenes introduced that had no apparent purpose other than filler, because they certainly didn't aid in progression of the story.

The romance grew tedious and a bit tiresome because the characters were just running in circles every time.

Overall, with some tighter writing, this could have been a beautifully complex, multi-dimensional story. As it is, I think the writers got in over their heads and lacked a clear vision and the drama suffered for it.

ACTING/CHARACTERS:
Most of the actors and actresses did well in their roles. The one that just did not do it for me Taro, who plays Tanai. Bless him, he seems sweet, but his acting was incredibly stiff and he couldn't really deliver expressions very well, which was off-putting as he was a main character. Best, who played Runway (again, another lead), though better, still wasn't as strong as some of the side characters. But other than those two, I thought the cast did really well in their roles, though conversations at time felt a bit stilted and awkward. I wish they were given better material to work with.

MUSIC:
I overall like the OST. The opening theme especially is beautiful, and it complements the fantasy theme nicely.

RE-WATCH VALUE:
I may re-watch it once, a long way down the road, to see how the story feels when the next episode can be watched without waiting a week. But due to slow pacing and an under-developed plot line, I probably wouldn't re-watch it more than once.

BOTTOM LINE:
I went into this drama with high expectations but was ultimately let down. It was okay, with some entertaining parts, but definitely not the best drama out there. I'm kind of surprised to hear that SS2 is coming (as of right now anyway), but I'll probably watch that one as I've already committed to the story. For this drama, not sure that I'd recommend it, but if you're curious about it I'd say give it a try.


Was this review helpful to you?