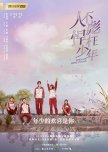 From the begining i didnt use to watch a drama series, but this drama series really move my heart from overacting drama, and this drama when i watch it's so natural and the acting, place, spot, music, etc really match enough, after watch this drama it remind me back to school when i was in a high school. The character on this drama perfect and i begining fall in love with this drama hope the season 2 can excited as the season 1. The character was pretty and handsome and the plot of the story it's look like another movie, but this one remake with a good viewl, story, character.
I watch this drama and feel huang deng deng so optimise while she just a support role. Yang xi was great too both her and huang deng deng was so pretty with a sweet smile, feel like fell in love hahaha..
Was this review helpful to you?