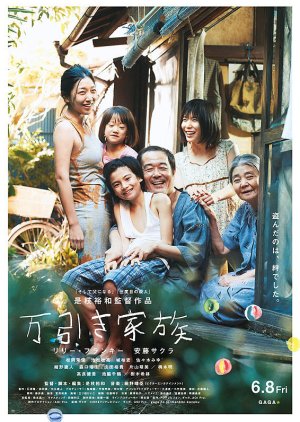 I went to watch this movie with high expectations as it is the Palme d'Or winner at Cannes and I wasn't disappointed, but I definitely expected something more.
The important think to know is that this is not a movie for everyone. It is slow paced, especially in the first half and I would definitely call the film raw. For me what Koreeda wanted to achieve was to tackle very important social issues, that foreigners and especially Japanese tend to hide in a corner knowing that they exist and at the same time smiling like nothing is wrong.
The acting was fantastic and if someone forced me to see the movie without knowing anything about it, I would probably say that it was a Koreeda film, not his best -from the ones I have watched- but certainly a good one.

This kind of movies are so realistic and at the same time unbelievable. Knowing that this kind of things are an issue not only in Japan, but I would dare say everywhere is heart-wrenching.

All in all this is not a movie someone should watch to just to pass their time. The film needs your attention and your understanding.
Was this review helpful to you?