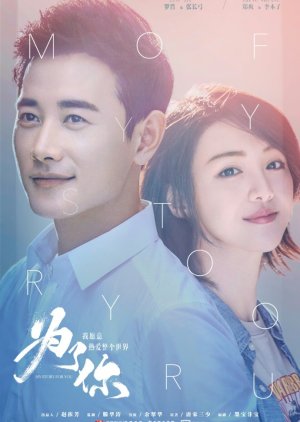 -----Story-----

Absolutely loved the story. I really enjoyed how everyone's stories were interconnected. I think it was really well executed. Having all these different stories going on and then all of the characters interacting, I was on the edge of my seat at lots of times wondering where the next twists and turns of the story would be. Although often times, some twists you fear for may not happen, the lack of said twist really gives you that feel of relief and happiness when watching this show. I'm really happy with this show's storytelling.

The story starts all the way in the past and depicts the development of the characters over the years. I think it was very well done. You can really see how the characters evolve and grow from their youth to their days as seasoned adults. It's really enjoyable.

-----Acting/Cast-----

Luo Jin is doing what Luo Jin does best. He's really, really amazing.

Zheng Shuang just acts cute and stuff as per usual, but I think she did a good job.

As for other characters, I felt that they were quite good as well.

-----Music-----

The show does a great job of playing music that fits the year in which the story's setting is currently in. I found a lot of song choices to be quite good. The opening theme "Dream it possible", the Huawei consumer brand song was a very great choice for the show. I'm not sure if Huawei sponsored this show, but I really liked the song. The songs that were also specially made for this show are also quite good.

Use of various backing tracks indicating certain emotions was done very well throughout the show.

-----Rewatch Value-----

I usually simply don't rewatch shows. You can't really trust me on this section.

I felt that the show was very good. I feel like I would have no problem rewatching this with a friend.

-----Overall-----

I really, really enjoyed the show. I come from the reddit r/noveltranslations community and absolutely loved seeing the back story behind how Tang Jia San Shao got to where he is today. I was on the edge of my seat the entire show wondering what sorts of things happened in his life to bring him to writing. I don't know if this show is his exact autobiography, but if it is, it's completely mind-blowing the journey he took to be where he is today.

This story is quite inspirational. Work hard. Fall down. Get up. Work harder.

It gets a 9/10 from me overall, but in terms of whether or not you should watch it, I give it a 10/10. Watch it.
Was this review helpful to you?