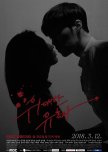 It could have been a great drama.
The actors were all incredible. I've read a lot of negative comments about Joy's acting so it was a great surprise.
My personal favorite was Moon Ga Young, this role was for her. She embodied the charisma and the complex personality of her character perfectly. I loved that it wasn't an all black/all white character depending of the story advancement but really a constant complexity.
However, even though the idea of the story was good, as the plot was progressing it seems like each event were botched.
For instance, the parent's story and Sejoo's background.
They did attempt a character development with Sooji and Sihyun. We indeed saw how their characters evolved as their relationship change and as they both realise nothing turned out as expected. Nevertheless, this evolution wasn't an improvement but it seems like the end was displayed as such.
The Great Seducer is aesthetically appealing (actors with a good performance, music, decors...) but the development of the story, as well as the character's one, was lacking. That's why overall it was a disappointment.
Was this review helpful to you?