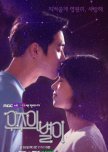 This review may contain spoilers
First of all I want to say that I have just finished watching this about an hour ago, so this review might not be the best one out there haha.
The story is about a singer, Woo Joo, that has been losing a lot of fans and has lost the motivation and will to continue living. He has lost his meaning.
The second lead is a grim reaper Byul that can't remember her previous life , all that she remembers is that she was a fan of Woo Joo, even as a grim reaper she continues watching over him.
To see how Woo Joo, a very pessimistic and uptight person found a reason to go on doing what he loves, keep living and smiling was really inspiring and motivating, I want to point out how much Byul matured thru out the series also.
This series uplifted my spirit a lot, I love it so much .
There's a quote in one of the last episodes I believe, '' You are not a spec of dust, but a star'', it actually made me teary eyed, I will never forget it.
All of the actors did well in portraying the characters and story, the OST was very good, I listen to ''Curtain'' a lot, it suited the series well.
It was very easy to watch and follow this series, for the short time it had, a lot definitely happened.
The humor of this show was A++++++++++
If you are a fan of uplifting,funny and cute shows, I believe you'll like this one, I certainly did haha.
I apologize for the lack of information of the actual plot, but I wanted to keep this as spoiler free as I could.
This is the first review I ever wrote, so that's why it isn't very structured haha, hope it isn't a problem. I'll get better I promise :')
Was this review helpful to you?