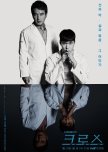 Cross
8 people found this review helpful
Honestly this drama is a whole WOW.
It might be a medical drama, the plot is not what you expect! There is no rivalry between characters, no fighting for a higher rank in the hospital it is all about a doctor who wants revenge.
Go Kyung Pyo's acting is amazing in this and since I've only seen him in much softer roles such as Strongest Delivery Man and Reply 1988 it is really interesting to see him star in such a dark and suspenseful drama.
Jeon So Min is also great in this drama as I've only seen her on Running Man, it is quite interesting to see her play much more serious roles where she doesn't have to joke around as much.
Every single episode keeps you on the edge of your seat and makes you want to watch the next episode as soon as possible. The amount of times I got scared due to the intense and suspense throughout this drama is numerous. Although there are some predictable parts throughout the drama, they did very well in delivering it even if it is what you expected to happen.
There is nothing much I disliked about the drama at all. The pacing of the drama is great, they don't drag certain parts and I understand each part of the plot clearly. It is definitely worth a watch!
Was this review helpful to you?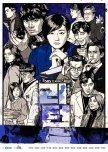 Return
2 people found this review helpful
This drama is so far one of my favorites so far. The amount of thrill and suspense this drama has is off the charts and I cannot stress it enough how I enjoyed this drama loads.
What made this drama so worthwhile was the acting, especially the Bong Tae Gyu who played Kim Hak Bum in this drama. His acting was phenomenal that it made me hate his character so much throughout the whole drama. Shin Sung Rok acted perfectly to show Oh Tae Suk's psychotic personality and it made me scared a little.
This drama delivers the message of decisions, and how each decision comes with a responsibility. The drama was able to deliver how bad decisions can not only affect you but also your surroundings. The drama also depicts the saying of how 'History repeats itself' and the way they cover up their bad decisions is constantly repeated even when they were young.
At the first the character Choi Ja Hye was played by Ko Hyun Jung which is then replaced by Park Jin Hee till the end. Although I was a little afraid that the change in leads may ruin the drama, but honestly the way the introduced Park Jin Hee in the drama was really good. Park Jin Hee's acting was also amazing and she is extremely beautiful.
The most upsetting thing about this drama is the lack of screen time for the leads. Throughout this drama you get to see a lot more of the elite group of friends instead of Choi Ja Hye and Dokgo Young who are the main characters. But their screen time increases more towards the end especially when Park Jin Hee comes into play.
The ending of the drama is quite sentimental, I got a little emotional to be honest. But the ending was quite vague and it doesn't show much of what happened to the other characters in the drama.
For those who can handle violence, this drama is one I would love to recommend. I really enjoyed the intensity of the whole show and how it made you want to know what is next.
Was this review helpful to you?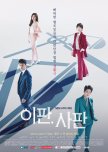 So this is the first time I've written a review so if it's not helpful I'm sorry.
I wanted to watch this drama because firstly because I'm a fan of crime/legal dramas and secondly, we never really see judges as a main character in dramas.
The cast was great. I am a very big fan of Dong Ha's acting ever since Suspicious Partner and he did an excellent job in portraying a Crazy Prosecutor interrogating his suspects or what not. Park Eun Bin was very cute in it and I really enjoyed her presence and Yeon Woo Jin was great in showing himself as a logical and intelligent man.
However, I felt that the way they introduced Park Eun Bin's character (Lee Jung Joo) was like a one-time thing. The summary mentioned a judge who cannot control the way she speaks and swears at her defendants but throughout the drama I've only seen her do that once (which was like the first episode or two).
The story had a lot of plot holes in my opinion. There are so many questions left unanswered and there are parts of the story in Lee Jung Joo's brother's case that is unclear. I felt like that it didn't do very well in concluding the case was a major con to this whole drama. There were some plot twists and parts of the story that I would've never thought would occur, however it may be confusing to some people.
The chemistry was really cute between the characters. Dong Ha's character (Do Han Joon) and Yeon Woo Jin's character (Sah Eui Hyun) showed some great love-hate friendship and it was adorable. Sah Eui Hyun is honestly a real tsundere if I should say.
The chemistry between our two main characters Lee Jung Joo and Sah Eui Hyun were cute as well. It's a little awkward and shy but in a good way. However there isn't a lot of romantic moments between them.
There are definitely some second lead moments that hit you right in the heart and I felt so bad for Do Han Joon throughout this whole drama and sometimes it breaks my heart a little.
Overall I probably won't watch this again. Just because I feel like I shouldn't rewatch crime/legal dramas if I already know who the killer is or what kind of plot twist is going to happen. But to those who haven't watched it yet, it always nice to give it a try.
Was this review helpful to you?