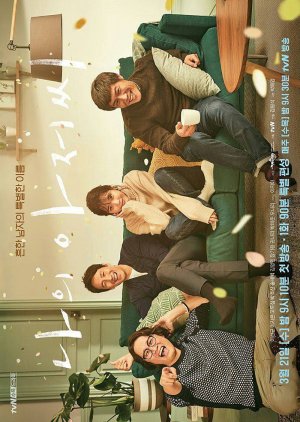 Okay, I quite literally just finished watching and I feel so warm and fuzzy inside that I'm going to write this right now even though it's 12:30 AM lol.

First things first: the story. From the first episode, it honestly grasps your attention and curiosity right away. Questions begin to flood you about Ji An's story, Dong Hoon's life, and generally the interpersonal relationships among everyone living in Hoogye. The entire drama ultimately leaves you desperate for a coalition of loving friends and family that will truly support and help you whenever you need it. And, although I'm quite the romantic and a large inkling of me wanted to see some romantic action, there were no drastic plot changes in the name of love. It was realistic, and that's just another central reason as to why I enjoyed My Mister so, so much. After just completing Goblin, I didn't feel good. The story seemed off, and I realize why now: because it was completely unrealistic, and not just because the main characters had magical powers. It was because the story really didn't make sense. It pulled the laws and realities of what is reasonable too far and made the relationships created across 20 episodes seem very fake. For My Mister, the relationships are real, run deep, and do not betray what real life can look like.

The acting was PHENOMENAL. Every actor/actress played their roles diligently, and I, never for a second while watching, did I question whether that was their real personality or one they took on. There was one scene with Ki and Sang Hoon, where Sang Hoon was unimpressed with magic tricks and Ki Hoon exasperatedly asked, "Why do you cry when you watch TV shows then? It's all just acting." My Mister, surely one of the best magic tricks I have ever seen, took my breath away. I think basically all of the characters that I originally found annoying grew on me by the end, which is really rare for me and TV shows lol. However, I was IN. LOVE. with IU throughout the whole show, and her relationships with her grandma, Kwang II, Ki Beom (only fault: I wish they expanded more on this relationship), Jung-Hee and duh Dong Hoon made me love those characters and their acting even more. I loved Dong Hoon's relationship with Team 3 and even the CEOs. I loved the acting in My Mister!

I didn't even question that the music would pull my heartstrings when IU is the main lead. The OST is gorgeous and the song choices for specific scenes and people fit very well. I don't know if I can say much more than that for the soundtrack, but just like everything else with My Mister, it was thoughtful and well done.

Overall, I really recommend that you watch this show, whether it's for specific actors, an enticing and unique story, or just to see a glimpse of what real humanity looks like. I guarantee this: you will feel good inside after watching. If you don't, my sincerest apologies lol that I took away 16x80 minutes of your life, but that's highly unlikely. It's a uplifting drama with great actors, great music, and a fantastic plot.
Was this review helpful to you?