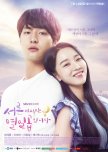 An Endearing, Funny, Sweet, Healing, Uplifting, Beautiful Story with a Bunch of Lovable Characters
I love this show so much for the positive, warm-hearted, funny, quirky vibe it gives every episode. Yet it's not an empty calorie show at all. It manages to balance hilarious comedy with touching, deep moments and inspirational life lessons. This show will make you laugh and cry - sometimes at the same time. Though there are sad, heartbreaking moments, this show always seems to exude a sense of optimism underneath it all. In this stressful world with so much violence and inhumanity; it's nice to be able to have this oasis of a show to turn to where you can watch lovable, quirky, well written and acted characters who warm your heart and tickle your funny bone every week. I am never bored by this show, and the hour always goes by so fast for me. I've re-watched each episode too many times already and still love it.
This is a love story between two emotionally stunted 30-year-olds with the emotional maturity of 17-year-olds who help each to grow and mature into their chronological age of 30. The plot and the heart of this story is the emotional growth that each of the main characters has to go through to become who they were meant to be if not for the traumatic accident that essentially froze them emotionally in time. The life lessons from how to treat others who are struggling to how to overcome your fears, tragedies, and regrets to find the courage to live and love again are beautifully written and acted. I love that this story doesn't show this journey in a maudlin, boring fashion but does it with so much humor and heart.
Though there may seem like a few parts where things are not moving as fast as we the audience would like or then moving too fast because this show was scheduled to be 40 episodes, but SBS inexplicably cut it to 32 at the last minute out of nowhere despite it being the number one rated weekday prime time show and a hit internationally all through its run. Please trust that the writer and actors will make your journey with them worth it if you stick with this heartwarming and beautiful show to the end. Just enjoy the funny heartwarming moments for what they are. I gave this show a 10 not because it's perfect, SBS abruptly cutting the successful show caused some loose ends that would have been tied up if they had the time they were originally promised, but because it's the closest to the most perfect show I have ever watched in terms of all the elements I mention above and below. It's the only show were I have no major complaints about anything and I enjoy watching every character and every episode, even in re-watch. Plus the ending is one of the best and most satisfying endings I have ever seen. There are so few heartwarming, interesting shows where after you watch it, it restores your faith in humanity instead of making you question it.
The OTP's relationships take time to build, but once it "crescendo," their chemistry is in full bloom amazing mode. This will become one of the most beautiful love stories you'll ever see and I'm not just talking about the leads, but the entire cast. Both Shin Hye Sun and Yang Se Jong have amazing comic as well as emotional timing on top of being first rate, award-winning actors. They both have the ability to make the audience feel what their characters feel and elicit great empathy for their characters. Both can make you clutch your stomach in laughter and your heart in tears, and their love story will make you feel like butterflies live in your chest. They're such great actors that they can have an amazing love story with a broom much less with each other. The rest of the cast is also amazing; there isn't one weak link in this cast. Even the dog is a better actor than half of the human actors out there.
Very rarely can I say with certainty that you'll love a show because so rarely is there a magical coming together of great writing, acting, plot, comedic timing, directing, lovable main to supporting characters, location (even their house is full of character), and music in one show. Even if you like nothing else, the dog is worth the watch alone. I've never seen a show where I love each episode and don't forward through any part. The only disappointment I feel is when it ends. Of course we are all human and all will have different opinions on everything, but I think the majority of the people who give this show a try will find that they don't just like it, but will love it and it will become one of their favorite shows of all time or at the very least of 2018. It's one of the best feel good shows I've ever seen. You'll want to tell everyone you know about it and watch this show again and again.
Was this review helpful to you?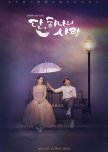 A Deeply Touching Romantic Comedy That's a Feast for Your Eyes, Ears, Brain, and Heart
❤️ Beautiful smart leads ✔️
❤️ Beautiful acting ✔️
❤️ Beautiful touching deep story & writing ✔️
❤️ Beautiful romance ✔️
❤️ Beautiful OSTs ✔️
❤️ Beautiful locations ✔️
❤️ Beautiful cinematography ✔️
❤️ Beautiful directing ✔️
❤️ Beautiful (mostly ;) outfits, accessories, and styling ✔️
We've been blessed to get two amazing romantic comedies from Shin Hye Sun as the lead in a row. Hopefully many many more. Though her characters and circumstances could not be more different in ALML from 30 but 17, her amazing acting talent and skill at being able to touch your heart are the same. I didn't think I could love a show more than 30 but 17, but I do with this show. They are 1a and 1b in my book.
If Lee Yeon Seo was played by a less talented likeable actress she could have easily been cartoonish and insufferable . Yet somehow Shin Hye Sun managed to make her a sympathetic bada**. It's so rare to get such a strong KDrama female lead who says and does exactly what's on her (and our) minds. Dan could have been a silly empty character yet Kim Myung Soo makes him hilarious and heroic. The main leads are amazing onscreen from their hilarious bickering to deeply touching moments. Some of their kisses in later episodes will make you blush and flutter your heart with their chemistry. My only complaints about this show are that there aren't more episodes and the entire show can't just be only the two of them on screen. I know the latter is unrealistic but that's how much I love this OTP.
This show asks some touching and deep questions about God and why bad things happen to good people. The journeys the main characters take to find those answers will make you weep and touch your heart as well as tickle your funny bone. You will not regret investing your time and heart into this show.
Was this review helpful to you?