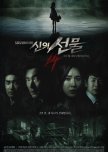 to be honest i suck at writing reviews that's how i think but i NEEDED to write one for this.being in the drama land for so long i hardly come across dramas that impress me so much.this one ...i don't even know how to express how good it was im a hopeless romantic so a drama with no romance will be boring for me but this one didn't need romance to spice things up.the story was a piece of art.writers knew what they are doing and they did it well.every single ep was full of turns and twist to the point that i was at the edge of my seat the whole time and believe me when i say you wont have a damn clue whats going to happen next and it makes u crave for more and more and even re-watch eps to find a clue .i watched this while airing and it was a hell waiting for next week but u guys are lucky because u can marathon it.some people may think since its full of twists it wont make sense at the end but it will so don't worry about that.now about the cast lee bo young u rock !that's all i can say plz sb give her an Oscar she deserves it and cho seung wo it was my first time seeing him and all i can say is ahjussi marry me plz plz plz *_* he is P E R F E C T (i have no idea why i typed it liked that lol that's my way of saying how perfect he is)and i know people will not give this drama a shot bcz there is no eye candy but people just watch it our ahjussi is so much hotter than any eye candy out there .child actor was so good too that girl has got so much talent .i don't know what else to say to make u guys watch it T_T JUST WATCH IT im out sry if it was not a good review
Was this review helpful to you?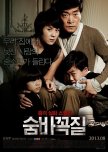 i waited a lot for the subs of this movie to be out so i can finally watch it. I was expecting so much and I'm happy that i waited for it. The story was good although it was all over the place .the writer built an awesome background for the main character and his brother and i was expecting to see more of it but suddenly everything turned out so different (believe me I'm trying my best not to spoil) and i was so confused ... still don't know to call that genuineness of the writer or something else. The whole idea of the story didn't make sense .i mean how is possible that somebody else lives with you at your house and you don't even notice them and they decide to make your house for their own? Yet it's so interesting that i was unable to pause the movie for a sec before finishing it. Son hyun joo was just perfect i don't know how he did it but his acting was just so flawless that i got goose bumps. Moon jeong hee did a good job too. That ajuma was so creepy that now I'm afraid to open my closet lol. I guess the strongest point of this movie was the excellent cast because the story itself was not such a big thing. The other thing that impressed me was the perfect start of the movie. Those first minutes of suspense made me want to watch the whole thing at once.
Was this review helpful to you?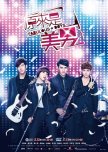 ok so when i decided to watch this i had only one reason : jiro wang (i recently got into tdramas and he is one of my first biases) .considering that i had already watched the other versions i mean j&k version i was like 100% sure that there will be A LOT of fast watching waiting for me but it didn't happen.in my idea this was waaaaaay better than the other versions .in k version although it was cute and all; the main lead chemistry was off for me and in jversion they made it short which caused me not to believe the whole *great love* going on !but this one it had everything that i wanted.Jiro wang was not childish and less jerk than tae kyung which made the love story more believable.when he needed to beg he begged and when he had to cry he cried .he was not a stupid jerk till the last second and still win the girl .in kversion i was on shinwoo team in jversion i had no team and in this version i was finally happy with the ending lol because jiro wang deserved her and the main girl considering she is a rookie actress did a good job too.the ost was epic like all of the versions of this drama i mean will *i will promise you* ever get old?i find my self screaming it every time the drama started kkkk the lyrics were just woooooow !i may not rewatch this cause i had already watched this story like 8 times lol but for others who this story is still fresh i guess u can watch it again for sure;and this version was the only version that the girl could be passed as a boy ;) sry if my english is not good .i dont write reviews alot
Was this review helpful to you?