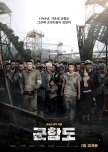 I found this movie by coincidence, and wow... i'm speechless.
This was a WHOLE new experience for me. I've seen several movies and kdrama's that have themes of war in them but this one really wears the crown. The way practically nothing has been taken out or censored really makes it look like you're watching the real event. I've never been this fascinated by a movie like this, yet it also terrifies me. I'm not a fan of gore scenes yet i couldn't stop watching.
---
The acting was so realistic.. all of the actors did a great job on making the movie even more realistic by showing raw emotions. I personally really loved the big scenes, the set seemed so realistic and there was so much going on. It almost seemed as if you were there, in the chaos that was happening.
---
Don't even get me started on the music. You'd expect the big fighting scenes to have exciting music however, they used mostly calm music on the times the chaos was biggest, sometimes even a single person's song without the music. The music made the movie seem terrifyingly real. They used their ost's at the perfect times.
---
I personally found the story slightly disturbing and confusing but that made me want to keep watching even more. You really wanna know what happens to the characters in the movie due to the many questions it leaves you with after each scene. Fascinating....
Was this review helpful to you?