Was this review helpful to you?
Finally Baek Won's whole family knows the truth behind the death of their father. Seo Jin Ki threatened Baek Won that he might even hurt his own son. Such a monster ! Seo Do Young told Man Won to protect Baek Won without explaining anything. Seo Jin Ki tries to find out the account where Mrs. Kang has her money and pushes her when no one's home. Baek Won arrives and sees her grandma laying on the floor and the episode ends. Will the grandma die? Will Seo Jin Ki finally get caught? We'll find out in the next episode ~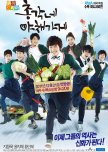 Bachelor's Vegetable Store Episode 9
0 people found this review helpful

HAVA-RAVA
Was this review helpful to you?
Jin Shim finally founds out that the man she likes is Tae Yang. W