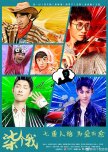 I'm writing this review after watching both the Korean and Chinese versions.
First, I just want to mention that I watched over 1000 Drama and Kill me heal me (the Korean version of course) is my TOP FAVOURITE drama.
Now, after giving this version a lot of my patience and time so that I be a fair judge, I can finally review it honestly.
•STORY: The story is the same EXACT story as the Korean version and I didn't see any changes. Let's say it was a bad cover/remake or just a low version of it. Sorry if I may seem rude, but, I see nothing special with keeping the same thing or in more suitable words WITH EMITATING THE WHOLE DRAMA. I gave it 4 since the original stroy is perfect, genius and no words can describe it.
•ACTING/CAST: Before comparing them to the Korean ones, let me acknowledge their great effort especially the male lead.
I don't think that they were that great though to be even a bit close to the korean actors. (No offence)....The Korean actors are in way higher level and their acting was so natural and real that I almost felt like I was sharing the same emotions with them. While, in this version, the actors were a bit fake and it was clear that they were trying to imitate the Korean ones so I WAS NOT CONVICED AT ALL.
The main lead was not bad though. I gave this a 7 for him.
•THE MUSIC: listen to the korean OST and that will tell you why I gave it 1.
•REWATCH VALUE: I watched the Korean version more than 6 times while I watched this one barely once. I don't think I'll ever REWATCH it.
??•OVERALL•??
I don't see the point in making this version if it was going to be the same thing. I saw many remakes of other drama and they all had some changes and their own touches on the stories and plots. This one was just a low version and an imitation.
CAN'T EVEN BE COMPARED TO THE KOREAN VERSION!!!!!!
Was this review helpful to you?