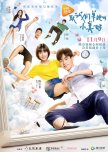 This review may contain spoilers
First and foremost I would say that I did watch "Itazura na Kiss" and I didn't like it. Unfortunately, I didn't know that this show was an adaptation because I definitely wouldn't have watched this.
This is my opinion so you are not obligated to agree with me.
Xiao Xi- as a high school student being weepy, clingy and immature makes sense but even as adult there is no growth. She cries all the time and doesn't learn from her mistakes. She is a complete submissive. In the end it seemed like she has a little strength but that bubble was busted really quickly when she saw a little bit of tears in his eyes. "Did you forget all of the tears you shed for him on the second leads shoulder?"
Jiang Chen- I do not understand if its bad acting skills or the character is a robot. His expression never changes whether expressing love, anger, despair or happiness. He dominant and manipulative. He thinks very highly of himself and treats everyone -especially the woman he loves- as trash. Basically, I haven't found a single quality that I like about him. In college they were in a relationship but it felt more like only she was in a relationship. At the end when they get back together, he is totally taking advantage. He is the only one benefiting from that relationship and she is the only one comprising in the relationship. He doesn't care about her at all especially not about her happiness. When you love someone their tears hurt you more than it hurts them.
There is almost no character development in any of the main characters. I wouldn't want to promote this culture (the main male leads attitude) for the next generation.
Was this review helpful to you?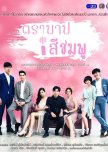 This review may contain spoilers
First and foremost DO NOT WATCH THIS SHOW if you don't like revenge lakorns.
Honestly I LOVE the lead actors, and that is the main reason I chose to watch this. It has such high ratings and has been recommended highly. I guess one the problem about my opinion is that I had high expectations. Anyways here is what I think:
The cafe romance was cute. His best-friend and her best-friend and a sweet and nice love story. Their acting, though, was a lot shoddier than you would expect from lakorns.
I understand and sympathize (sort of) with Chaya's intentions. She just wanted love, her methods were wrong, but desperate people do stupid things. Her feelings and struggles with her own humanity was portrayed quite well.
Kriss, Man oh man. This guy is a confusing character, seriously. he goes crazy with jealousy and the fact that there is no justice around him but his change of character was a joke in the end. He shot his best friend and was going to kill others and in a split second everything changed. I was literally getting goosebumps because the resolution was so cringe-y.
Kiew, I dont know what to say about her. She was a strong character mostly, but I guess love makes you weak. The kind of pain Peat was inflicting on her, no woman should bear it. This is 2019 for Gods sake. Does a woman really need to bear all of that and then stay with the guy? And what the hell is up with her father. I dont understand why any father would encourage his daughter to stay with a man like Peat. If someone treated my daughter like that I would have put him in jail or at-least sued him for emotional torture.
Peat, wow! At first I understood his anger and emotions, but after their marriage it didnt make any sense. I understand he wanted to punish his father but what was Kiew's fault in all this. DIdnt he think about that even once when he was away for 4 years or so. The way he treated her it never felt like he truly loved her. He was literally abusing her and thats not okay. He even cheated on her. He used Chaya to such a degree that any woman would go crazy. I dont get why in his thirst for revenge he destroyed Chaya and her life in such a manner. She was sort of an innocent outsider. He literally treats the women in his life as trash. A man like that who hurts his friends and "so called love of his life" in such a manner can never make anyone happy. At the end of the show I hated him so much that I wanted Kiew to walk away forever. So, I was VERY DISAPPOINTED when they ended up together.
Was this review helpful to you?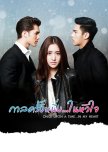 This review may contain spoilers
Meh...
I personally didn't like this. It was not bearable. The story has potential but it wasn't portrayed and carried out well. I really like Mik but I didn't love him in this. There were many points of the drama when I supported Chen Ming more than Daniel. The female lead's character, Fah was kinda pathetic in my opinion.
I wouldn't recommend to watch this show unless you love gangster genre and the actors. I was totally rooting for Chen Ming. Daniel might value her life but not her heart. Any sane woman would choose to run away from him. He can only cause pain, willingly and unwillingly. You cant blame him for the situations that is out of his control but on many occasions he chooses to hurt her. I mean he even sexually harasses her in one scene. At the end he should be begging and grovelling for her forgiveness but that doesn't happen either.
Was this review helpful to you?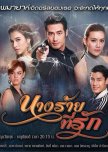 This review may contain spoilers
Its a good show with good suspense. I honestly haven't seen any show of Kimberley where she had bad chemistry with the actor. She is like the queen of romance.
I love Boy as well, he is always lovable. I love Boy in every single of his show. He is one of my favorite Thai male lead actor. The combination of these two was excellent.
The show had good suspense as well. I like how there was equal focus on the suspense and romance. I was seriously confused who was trying to kill her. Over all I can say that I really liked this show and would suggest
Was this review helpful to you?