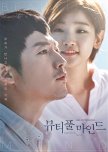 Before i watched this Kdrama, there was one that i have seen with a similar plot (Dr. Frost). Dr. Frost kind of made me want to skip parts of the episodes because i felt that there would be instances where the story was getting to be a bit boring. But with this drama, i was really impressed with the acting of Jang Hyuk. His face was emotion-less but the eyes are communicating with you. I mean, he is really good. I also liked the chemistry between Jang Hyuk and the lead actress. They don't seem to match each other at first glance but then as the story progresses, you can see some sort of chemistry between the two. There is a thrill, kind of good feeling between the two. This is one of those dramas that i really waited for each episode every week because i cannot stand waiting for the whole show to finish before watching. The medical terminologies were also great. it seem believable to me. :)
i definitely recommend this drama if you are into medical, love story kind of plots. Another reason to recommend this is because of Jang Hyuk! Totally awesome actor.
Was this review helpful to you?