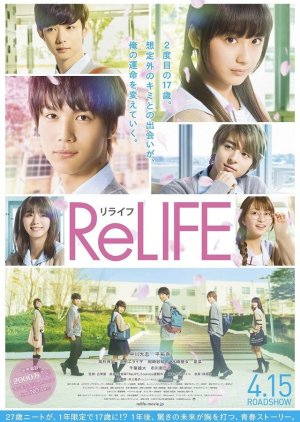 This review may contain spoilers
I gotta say. This movie hit me hard. Granted, the pacing was a bit slow at the beginning and character development was slow. I also wished that the movie would have given more character buiding moments either solo or as a group.

Positives: But then the movie started to develop the romance and the kinda cliche " friend group " adventure where they grew together. It had the cliche event like the school festival and trip which I didn't mind. I liked the characters, particularly Kaizaki and Hishiro, and the other casting choices as well. I felt that they, the main and supporting characters, were done well and fit their roles perfectly. The acting itself was slightly lacking but the awkwardness and tension was fine for this kind of movie.

SPOILER ALERT. DO NOT READ MORE IF HAVEN"T WATCHED.

Negatives: But the ending left me feeling a bit bitter and empty. Yes, the movies' ending implied that Kaizaki and Hishiro ending up triggering their supposedly lost memories which would lead to them falling in love again ( like they did in the manga ). But I wished the movie would've given at least 2 more minutes for them to say something like, " Have we met before?" instead of saying " Ummm.... ".

Another thing that kinda upset me ( this is a bit of a rant by now ) was the fact that Oga, Onoya and Kariu don't remember that it was Kaizaki who gave them the line of " Cherish the present ". Yes, it was a requirement of the program that they forget him and Hishiro but I hated that the group was broken up even if they had a proper farewell ( I teared up there, not gonna lie ). But the fact that their memory of him is gone and all that's left to them is a single line... it hurt and it was frustrating. But the movie was still good as a whole.

Lesson of the movie: Memories will fade. Of people, of experiences whether good or bad. But what matters is that you enjoyed yourself. Even if you can't remember the person who said somethign to you that motivated/ changed you, it doesn't change the fact that it impacted you. It's the impact that remains, not the details.

Haizaki wanted to leave behind something of himself, which he did in the form of that line " Cherish the present ", knowing full well that they would never meet. But it made its mark and that's really the best you can hope for.

So even if you can't remember the specifics of a good memory where you enjoyed yourself with friends, that doesn't diminish the fun you had. It doesn't taint the experience you had. What matters is that, at that point of time, you made a memory to cherish and it stayed with you to remind you that you did enjoy yourself. Whether it's complete or incomplete. Memories will fade, but its impact is what matters. So make those experiences. Experiences that will last you for life.

Conclusion: I tried to encapsulate my feelings and thoughts of the movie in this comment. I apologise for how long it is. But I feel as thought this movie ought to be recognised for the lesson it taught me and can teach to anyone who watches it. It was a good, thought-provoking watch. But even for casual movie watches, it was a nice ride.

9/10 - Definitely recommend.
Was this review helpful to you?