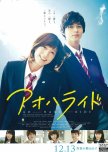 This review may contain spoilers
I loved this movie. 100%. I hadn't read the manga before jumping in but since I had no idea about any of the characters it didn't really matter. This movie was beautiful in pretty much every aspect.
I loved the casting choices made by the director. He brought Yoshioka and Mabuchi to life in a way that made me seriously want their actors in real life to get married. They fit their characters impeccably and even the supporting cast was chosen really well. I had no trouble believing that they were actual friends. The plot of the movie was also good, with the movie taking time to carefully drop hints of what was to come. The pacing was fine, a bit lacking at the start before speeding up. The overall acting was great across the entire cast so kudos to the director.
The romance was developed between the two mains in a way that mostly felt organic and natural. I really rooted for the chemistry between them and I am satisfied with how the movie choose to end. I do wish the movie had addressed the secondary character romance between Murao and Kominato but that is really just a personal preference.
The soundtrack was moving ( to me at least ) and well-timed in the movie. As a movie adapted from a manga, I have to say that this felt like it paid respect to the source material ( I read the manga after watching the movie ) even if it didn't follow it exactly, which I didn't mind.
I also didn't mind the cliches the movie used like the school festival and school trip. Instead, I think they were useful element to drive the movie forward. The cliche of the " friend group coming together as a whole after conflict " was executed in such a natural way that I can't hate the movie for using it. It was a testament to lasting relationships that are so very valuable and sought after in today's world and the connections made by these very different people was wonderful to watch unfold. One of the best friend group portrayals in Japanese rom com movies.
SPOILERS AHEAD. READ AFTER WATCHING THE MOVIE.
I really admire the movie for choosing to be sombre and realistic towards the end when tackling the issue of death and moving on from it. When Mabuchi's perspective is changed when hie finds out his mother actually prayed for him rather than for herself, I found that extremely touching ( to the point of actual tears ) and it was one of the most beautiful moments in the movie.
Lesson of the movie: Grief is a natural process that everyone goes through when someone has passed on. However, like in the movie when Mabuchi chooses to fixate on it, that is when it has been taken too far. So, the lessons is to know that you are not alone when you have dark thoughts and are in a dark place mentally. It's a simple but powerful phrase: " You are not alone " and it shines in this movie. There is hope and there is a reason to live, tp continue to live a life that honours the person that has passed.
Conclusion: This was simply a well-constructed movie that delivered on romance and genuine emotional impact. Its faults are few in light of what it does well.
9.5/ 10 - Definitely recommend
Was this review helpful to you?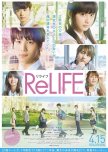 ReLIFE
0 people found this review helpful
This review may contain spoilers
I gotta say. This movie hit me hard. Granted, the pacing was a bit slow at the beginning and character development was slow. I also wished that the movie would have given more character buiding moments either solo or as a group.
Positives: But then the movie started to develop the romance and the kinda cliche " friend group " adventure where they grew together. It had the cliche event like the school festival and trip which I didn't mind. I liked the characters, particularly Kaizaki and Hishiro, and the other casting choices as well. I felt that they, the main and supporting characters, were done well and fit their roles perfectly. The acting itself was slightly lacking but the awkwardness and tension was fine for this kind of movie.
SPOILER ALERT. DO NOT READ MORE IF HAVEN"T WATCHED.
Negatives: But the ending left me feeling a bit bitter and empty. Yes, the movies' ending implied that Kaizaki and Hishiro ending up triggering their supposedly lost memories which would lead to them falling in love again ( like they did in the manga ). But I wished the movie would've given at least 2 more minutes for them to say something like, " Have we met before?" instead of saying " Ummm.... ".
Another thing that kinda upset me ( this is a bit of a rant by now ) was the fact that Oga, Onoya and Kariu don't remember that it was Kaizaki who gave them the line of " Cherish the present ". Yes, it was a requirement of the program that they forget him and Hishiro but I hated that the group was broken up even if they had a proper farewell ( I teared up there, not gonna lie ). But the fact that their memory of him is gone and all that's left to them is a single line... it hurt and it was frustrating. But the movie was still good as a whole.
Lesson of the movie: Memories will fade. Of people, of experiences whether good or bad. But what matters is that you enjoyed yourself. Even if you can't remember the person who said somethign to you that motivated/ changed you, it doesn't change the fact that it impacted you. It's the impact that remains, not the details.
Haizaki wanted to leave behind something of himself, which he did in the form of that line " Cherish the present ", knowing full well that they would never meet. But it made its mark and that's really the best you can hope for.
So even if you can't remember the specifics of a good memory where you enjoyed yourself with friends, that doesn't diminish the fun you had. It doesn't taint the experience you had. What matters is that, at that point of time, you made a memory to cherish and it stayed with you to remind you that you did enjoy yourself. Whether it's complete or incomplete. Memories will fade, but its impact is what matters. So make those experiences. Experiences that will last you for life.
Conclusion: I tried to encapsulate my feelings and thoughts of the movie in this comment. I apologise for how long it is. But I feel as thought this movie ought to be recognised for the lesson it taught me and can teach to anyone who watches it. It was a good, thought-provoking watch. But even for casual movie watches, it was a nice ride.
9/10 - Definitely recommend.
Was this review helpful to you?