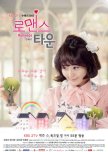 This drama starts off funny and charming then very quickly becomes a bore then gets interesting again, then it drops the ball on the romance and the story changes to focusing on the greedy maids.
The Ups: The 1st episode is solid. It is funny, charming, and tricks you into believing this might be a fresh romantic comedy. Second, the cast is well chosen and as a whole have a genuine chemistry. You really feel like they all live on the outrageous 1st street. The standout of course is Kim Min Joon. He really made me fall for him in this. Now I want to see more of his dramas.
The downs: The plot for most of the series. The romance is dull. The ending is blah. Too many eps.
Overall this drama had potential but it really is a mess. I would only recommend this to anyone who has extreme patience. Good luck!
Was this review helpful to you?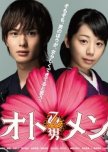 Otomen
0 people found this review helpful
Im a sucker for romcom's in schools settings but wow did it take me months to finish this one…
I found the story really ridiculous at times but funny at other times. The friendship/romance between the leads was very simple. The ending had many things left open. Still this was a very watchable school drama. I didn't find the focus on the Kendo club all that interesting though.
I didn't know any of the actors before watching and I probably wont think of them again after. The acting was just okay by most with no one really standing out. The leads did have a cute chemistry, which I appreciated.
Overall this is one of those dramas you watch when your in a mood for a funny school drama but you've seen all the best ones.
Was this review helpful to you?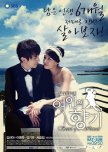 I'm writing my review now even though the drama isnt finished because I decided to drop.
The story started off really interesting and exciting. But then by then half way through it just became this downer. Every episode was just sad and also repetitive. The plot slows down because there's not a lot of story to tell once they confess to liking each other. Every episode after that is just a reminder that KSA's character is going to die.
Speaking of KSA she really is a phenomenal actress. However this is one of my least favorite roles from her. I much prefer her in City Hall. I like KSA funny and angry. No matter how I see it Lee Dong Wook can't seem to win me over. Dont get me wrong he is very attractive but his acting just flat out sux. I didn't like his acting in My Girl and I dont really like his acting in this drama either. Although it seems he as improved some. The supporting cast is amazing.
The music is nice. I like that "beautiful" song by that guy from JYJ.
I'll probably rewatch this if the ending manages to be a shocker and she lives but i doubt it so.
Overall this drama wasnt what i was expecting but if i wasnt such an impatient person this would be an amazing drama.
Was this review helpful to you?