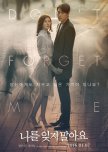 Wow. This movie really hit me. I cried so much during this film because in the beginning, I had no idea what to expect. The description for what the movie is about is vague compared to what actually happens. It was a little confusing at times, because they switch back and forth between the present and the past over and over. However, once the information becomes clear about why he lost his memory and who the girl is to him, it'll hit you right in the feels. I cried so much at the last few scenes because I finally realized what the storyline was telling me straight from the beginning. The acting was perfect and the ending was just what I hoped for, although I wish I could change the past for them.
Was this review helpful to you?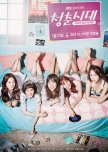 I went into this drama blind; I didn't read any descriptions towards what it was about, and instead just wanted to figure that out on my own. This drama is probably one of my favorites now because of how incredibly well done it is. The drama touches on a lot of heavy subjects that Korea tends to stay away from (safe sex, abusive relationships, prostitution, etc.) Every episode had me feeling a sense of love and motherhood over each of them. Once it ended, I cried because I was going to miss watching them. It left me with such a great feeling of happiness.
Was this review helpful to you?