The website is currently undergoing maintenance. Sorry for the inconvenience.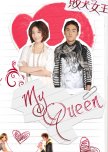 My Queen
7 people found this review helpful
My Queen surprised me with how good it was. I almost quit no less than three times during the first episode because it was too over the top with the silliness/slapstick, but I pushed through. I was hooked by the end of episode 2. The slapstick left and the goofy remained, which made me laugh out loud several times throughout the series.
The chemistry between the leads was what really sold me on this show. Those two had sparks for days. I enjoyed how they remained the focus of the series and, although there were many other characters, we never forgot the show was about the central pair.
The rest of the cast was a nice comedic addition and the range of the subplots and mysteries were intriguing enough to keep me invested in the story.
The series did drag a bit in the final few hours and my tear ducts were drained, but it was a solid ending.
If you get through the first two episodes and you're smiling at that point, then you'll really enjoy this drama.
NOTE: on netflix you get a short and cute music vid at the end of each episode (34 eps at approx 43 mins each) and on Hulu/DramaFever you get the cute intro and song at the start of each episode (21 eps).
Was this review helpful to you?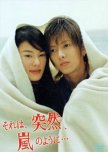 I completely agree with Amrita's review. It was the catalyst for getting me to watch this drama.
It's not your typical "older woman/younger man" themed "romance." It's all about the inner turmoil in our main lady and what love, relationships, monogamy, marriage, etc mean to various people in modern times.
The pacing is moderate, but perfect for this type of storytelling. The acting was good. I wasn't a huge fan of minimal eye contact (mostly from the leads) which is why the score is only a 7 on that. Sometimes I couldn't tell if they were trying to remember the lines or in character and uncomfortable making eye contact with the other player in the scene. I also really like how age played a large role in this, but it didn't weigh down the story at all, which makes me wonder if that was where some of the awkwardness came from. It totally works either way.
Other than that, the secondaries were ok, the family had interesting dynamics and the co-workers kept things lively when needed. There were no bad guys or good guys in this. Just people acting and reacting like people with honest emotions.
If you're looking for sweet and cuddly moments, this isn't the drama for you. If you're looking for a moral quandary regarding life and relationships then grab your bag of popcorn and settle in for a few hours of self debates.
Was this review helpful to you?
One of the most unnecessarily aggravating dramas I've watched for a variety of reasons. I only completed it because the episodes were relatively short and there were only 11 of them. Though I did groan, after episode 10 when I remembered I had 45 minutes to go before this ride was over.
First, the leads had awkward chemistry. In the beginning, it was ok because they had just met, but later it just became strange to watch. Don't get me wrong, it did have a little to do with the obvious age difference, but I could have gotten passed that had there been real sparks between the two which would have made their need to be together all the more powerful. Alas, I didn't see or feel any fireworks.
Second, I wasn't sure if the main couple's actions were spurred by noble idiocy or mere idiocy. Reasons behind most of their actions were seldom clear. In addition, their reactions to all the supporting characters were often murky. I kind of think that had more to do with the writing and direction, than the acting, but subtext was sorely needed and missing. Additionally, the leading lady's acting often seemed forced and less believable than the leading man and supporting cast.
I don't want to scare anyone away from watching this, BUT I don't want anyone to have high expectations since previous reviews seemed to be glowing.
Since it was set in 1999, I tried to remember that a LOT has changed regarding attitude and treatment of women, marriage, and gender roles, but coming from the present day mindset it was a challenge. Mostly because although the social commentary was obvious from several character's points of view, I never fully accepted that this was also supposed to be entertainment, which I kind of expect when watching a drama.
There were some lovely moments, and seeing how much has changed over the years was interesting to watch, so I would recommend this show for someone interested in watching an older drama in order to study the gender roles and social norms of those times.
Was this review helpful to you?