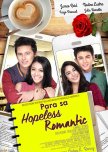 This review may contain spoilers
The story line is 9
The story has a pretty good storyline but it was kinda eh and predictable. The first part of the movie was kinda but the middle was not that good for me. Though the ending was really good. I think it's one of the movies I know that gave me a really good ending that I was satisfied with. Not only that but it's a very relatable story line for people who like someone but that person doesn't like them back yet
The acting/cast is 7.5
The cast is a great cast and James and Nadine always have great chemistry with each other. Though since this is one of their first movies I would say they did better than I expected.
The music is 5.5
It was non-existent and I really didn't remember it that much so it doesn't get a high rating for me.
The rewatch value is 7
I would watch it again because it is pretty relatable for hopeless romantics such as myself.
Overall is 7.5 and it's that because of how relatable it is for hopeless romantics.
Was this review helpful to you?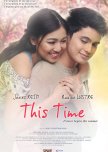 This review may contain spoilers
The Storyline is 8
In my opinion the story line isn't that unique. Childhood best friends become sweethearts is a very common story line but there were aspects of the story that made it unique. There's one scene where main FL makes a wish whenever she guesses the correct ice cream flavor when she buys from the store across the street. It's a very cute detail to add and I really liked it but since it is the classic childhood best friends to sweetheart or lovers it didn't get a 9.
The acting/cast is 7.5
The two lead James and Nadine have great chemistry and are also great actors but most of the times its like their roles are somewhat the same in most movies and the way they act is just the same as their other movie/drama characters. I just wish whenever they would take a role there would be a difference and I won't remember any of the other characters they portrayed in another movie/drama.
The music is 8
Their main song has been stuck in my head ever since I finished the movie and I loved it and always kept listening to it. Though it was just one song that got me interested maybe they should've added like 3 or more songs. If they did then I definitely didn't remember so that means it wasn't that good.
The rewatch value is 7.5
After a few months I still watched it and enjoyed it but after that I didn't watch it anymore and I was kinda uninterested in it.
Overall I give it a 7.5, the story line is pretty good but there could be improvements and same with acting. Music is fine and I would rewatch like 4 times but after that not anymore.
Was this review helpful to you?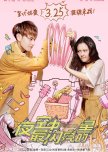 This review may contain spoilers
For Music Lovers and All
Story-
The moment I started the drama I immediately loved it. I loved the storyline especially since it also talks about the appreciation of music. The storyline has unique elements but also known elements. Like the hate to love relationship. Though I feel as if the ending could've been better. The fact that this drama also really highlighted the "never give up" phrase made me fall in love with the Drama.
Acting/Cast-
This casting is one of the best. This drama introduced me to Janice and Tao even more and it made me love them. Their acting is on spot. Whenever I watched them act, it felt like I they weren't acting and they are the characters. Which made me love them even more. For the character Zheng Boxu was a really good character for tao and he portrayed him really well. There was also a lot of detail when it comes to his character. While Yang Zhenzhen's character was lacking in backstory but gave a lot of attitude which made me fall in love with Zhenzhen. What I just wished added into the character is details about her life.
Music-
The music was really great and it's all most is from TAO. I really liked the songs to the point it made me a fan of Tao. A cute little detail I also really liked was their ringtones. The ringtones perfectly matched the characters personalities and appearances.
Rewatch Value-
I would totally rewatch this drama again but I don't think I'll get tired of it.
Overall its a very good drama and I really recommend it to people who love music or are having a tough time with their dreams.
Was this review helpful to you?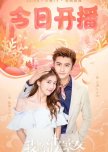 This review may contain spoilers
I've been watching quite a lot of Drama's and so far I really liked My Poseidon. I've finished it for a long time and till this day I still watch it. The story line isn't the typical story line. This was also one of the first Drama's I've watched that included Greek Mythology.
This is also the second time I watch Eleanor Lee. Her acting is okay but could use some work but the Character An Fei could've been improved. This is the first time I've watched Leon Zhang and I actually really liked his acting and his portrayal of Ye Hai. The chemistry between the two is really good but I've seen Eleanor have more Chemistry with other actors.
For me the music of a drama is very important since I love music. And the music did not disappoint me, both Eleanor and Leon have really good voices. Not only that but even if I couldn't understand the language, I really understood the feeling and everything else.
I would totally rewatch it and watch it again and again but there are still other drama's to watch so I would rather watch a new one than My Poseidon. Watching it once is good but personally I only watch the ending again and again because I always cry whenever I watch it.
Was this review helpful to you?