The website is currently undergoing maintenance. Sorry for the inconvenience.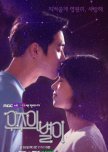 This was a really cute fun story but not something that wowed me or anything. I don't think I'm ever gonna rewatch it unless I have to in some sort of situation but I don't regret watching it.
Was this review helpful to you?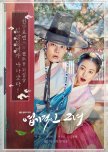 I honestly still can't decide my feelings for this. Like the 2 leads were quite really good and they had their cute moments yet something was still off. The plot itself wasn't that captivating nothing was that new or felt like "wow that was something". But I still didn't hate it so I'm just gonna neutral and say it won't work for everyone. The OST was quite good though, I gotta give them that.
Was this review helpful to you?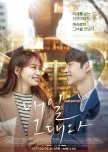 I started this when it started airing and I watched till episode 6 then just stopped and left it for about a month then watched 7&8 and left it for another 2 months then got back to it and finished the rest in 2 days. Which gets me to the point that there was nothing at all wrong with it, I just didn't feel this plot at that time cause I had so many things going on and I needed more light and fun things.
The plot was great and kind of unique and after really thinking about it I fell in love with the whole thing. The chemistry between the 2 leads was great too. Shin Min Ah of course so I shouldn't have expected any less. As for Lee Je Hoon I didn't really know him but he did a great job with the role and I loved him. The OST was a bit lacking yet there's this one song that I really loved and I still remember the whole thing whenever I listen to it and that's my favorite thing in the world.
Was this review helpful to you?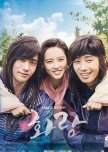 Hwarang
7 people found this review helpful
Well that was just a masterpiece in my opinion. This is my first historical drama so there really might be better out there but I think it will always hold a special place in my heart. I gotta admit that I started watching it because of Taehyung but it turned out to be much more than that to me. I got too invested in everything from the events to the characters and the romance which all three were great. It was really fun and cute at times yet made sure to keep me on edge with each episode. I loved it even more near the end cause it picked up real quick and every single scene was great nothing felt dragged or repetitive like some parts at first. The ending was just everything though! I was crying from how beautiful and satisfactory it is. And don't even get me started on the OST cause that was a work of art! Some songs might have been played at wrong scenes but the songs themselves are just epic. I just loved this way more than I thought I would and I don't regret a single second of it that I'm gonna re-watch as soon as I can
Was this review helpful to you?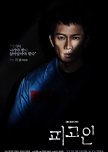 I've never was into this kind of dramas wether English or Korean. I always thought it was just boring and too complicated but this changed everything! It was so intriguing and kept me on the edge of my seat the whole time I'm watching it cause I just couldn't predict what may happen and even when I wasn't watching, my mind would go back to it trying to figure out what might happen. It had so many plot twists that I didn't see coming and the acting itself was so convincing that it made me feel as if it was a real thing not just a drama. And let's be real, Ji Sung *heart eyes emoji*. It was a true ride for me and the begining of my love for a new genre cause I'd definitely try checking something like it again even though I don't think something could top this for me especially cause of the emotional attachment I have with it.
Was this review helpful to you?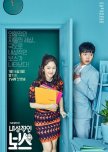 So another cute drama came to an end. At first I was kind of frustrated with so many things in this but with each episode it started to pick up pretty well and made sense. So I'd say, don't judge from the first 2 to 4 episodes and just watch it cause it was so worth it. I found myself smiling like crazy while watching later episodes cause they were so cute. I loved seeing Hwan Gi getting out of his comfort zone and trying new things and I related so much to his character cause of the whole social anxiety thing so it was nice seeing that it's okay to be myself and do what I want and to stop thinking every single thing before doing it and just do it. The whole cast was kinda cute to be honest but Rae Woon was the cutest. I loved how driven she was and how she was the total opposite of him that I wished I could be like her. As for Woo Il, I kinda found him a jerk at first but later I actually started to pity him. Yi Soo was kind of a complex character cause it was not easy to understand her actions that you may think she is stupid but she actually had everything bottled inside not to hurt anyone that she makes you feel really bad for her. So yeah, it was cute, fun, intriguing and definitely worth the time.
Was this review helpful to you?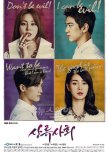 I had my ups and downs with thjs drama that I had to put it aside for a while in order to be able to finish it. I gotta be honest, it's kind of nothing special or new or maybe I just think that. But I really liked the actors especially the second leads. Park Hyungsik is a really talented actor and I hope he gets more recognition cause he deserves it. At first I kinda hated the first leads cause I just didn't feel the chemistry, there was none! But with the progress of the drama I started slightly feeling it, it wasn't great but it worked. As for the whole family dramas, I got really bored watching them thay sometimes I had the urge to skip those parts all together but I lived through them! To sum it up, I mainly watched because of the second leads to be honest cause they were just really cute and I loved them together. And to end this, I can honestly say that it wasn't bad but don't have high expectations either cause it's just not that kind of drama and my rating is actually because of the second leads cause if it weren't for them, this would have been a floop!
Was this review helpful to you?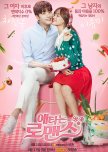 The typical cliché kind of drama yet it was really fun and cute. It hooked me from the first episode but the latest episodes were not that great. The ending really got on my nerves as much as a lot of people may think it's cute and satisfying, I just felt it a bit rushed in a way and predictable. I loved Sung Hoon here so much but I didn't feel his chemistry with Song Ji Eun that much. As for the 2 supporting leads both were just a no for me. I know this is quite a negative review but everything I said I don't mean in a bad way, I just think there was a room for an improvement that would have made it even more enjoyable. I really liked the OST though.
Was this review helpful to you?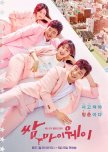 My brother watched the first 2 episodes and he was like "How are they not together?". This question says a lot about the whole drama from the chemistry between the two leads to the whole plot. It was so realistic, cute and fun. Park Seo Joon and Kim Ji Won were just perfect together that I wish they'd be the next real life couple but of course with his enlistment, that'd be w bit out of the picture for now. Ko Dong Man's character as much as many people would think he's naïve I really thought he had so much depth to him and a determination that's really hard to find nowadays. Choi Ae Ra as well has that determination and I really liked that. The second leads' story was one of the most interesting side stories I've watched so far. I really loved them together and they broke my heart which is something that never happened to me with a side story and that proves how amazing it was. The OST too suited it really well and that made it even better. This will be one of the best dramas I've watched and I hope that Seo Joon would come back with an even stronger role.
Was this review helpful to you?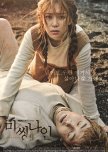 I gotta admit, it had a pretty great start. Like it was so amazing, intriguing and addictive the first few episodes. But then what happened?! I'm not saying it went like downhill or something. It just somehow fell flat ever since a certain thing has been revealed. There was kind of no point from then on. I gotta be honest though that I appreciated the sense of humor, the somehow love story was cute and the cast and I don't regret watching it one bit, I'm just saying it it had room for improvement and so much potential that I don't know where it went. I would recommend it though but only to someone I know would enjoy this kind of drama.
Was this review helpful to you?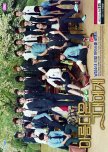 My very first officially completed K-Drama and I honestly only watched it because of Choi MinHo. I'm really glad I chose this one to start with cause it was just really cute and fun. The acting was pretty good and the music was on point with the scenes and that gave it an even better atmosphere.
Definitely hooked on dramas now!!
Was this review helpful to you?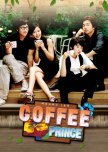 *sigh* Gong Yoo *heart eyes emoji* like seriously how can he be like this!! This drama was really cute and fun and I really enjoyed the whole plot. The romance was just like the perfect cup of coffee, bitter but the perfect blend. She did a great job in passing off as a guy that I actually was convinced most of the time that she is even though I knew. Also the fact that he fell in love with her not knowing the truth just proves how innocent and pure their love was from the very start. And the side characters were really fun and interesting which was a definite plus. I can't of course forget about coffee cause who doesn't like coffee and if someone doesn't I'm sure they'll like it after they watch this. I had a bit more of higher expectations though but I definitely was not disappointed!
Was this review helpful to you?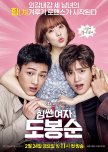 This by far is the best drama I've seen!! I can't believe it has come to an end. Like what would I do with my life now when the only thing that kept me looking forward to the weekend has ended. It was so freaking cute and fun and just overall perfect! I had a problem with the whole homophobia thing that was going on but I think it's just because of their society is actually like this so putting this aside and the useless side characters/plot, everything else was great. Hyung Sik as a lead was like a dream coming true and he proved again that he is an amazing actor and he truly deserved it. Bo Young is just one of the cutest actresses ever "peanut" and her acting skills were just perfect. I felt really bad for Jisoo though especially with the last few episodes and he also proved once again that he truly deserves his own first lead role. The whole concept of the drama was just great showing that guys can be cute when they fall in love and girls can be cute yet strong and not dependent on any one. And an eternity of appreciation to the OSTs that are gonna be on repeat for upcoming month till I can find something remotely close to this even though I know there won't be. I'm just gonna miss them so much!!
Was this review helpful to you?