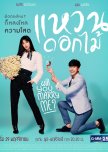 Romantic comedy drama has always been my favorite since God knows when. First and foremost, Gypso is my favorite Thai actress since her drama with Puttichai in I Want To Be A Superstar. I definitely gotta give her "The Queen of Rom-Com". Suits her the best. Their chemistry in the previous drama is as good as this one. Somehow the drama is not as catchy as the previous. I can't help but to compare both drama. Overall, it's not bad at all. I gotta admit one thing. I skipped scenes because I felt the drama went kinda draggy. It felt somewhat like I'm watching the movie, The Proposal. It's not the same at all but its somewhat felt like that. Well, you can disagree with me but that's my opinion.
Another thing that I like about this drama is the characters. My most favorite character is Waen's grandma. She's the coolest ever. She's very understanding and super supportive of her one and only granddaughter. Lucky Waen to have an amazing grandma like that. For that, I give two thumbs up (ten if I have more thumbs :P). Plus, she's very bold and daring. Good thing Waen got that side of her grandma in her.
The least favorite is Sing's dad. I can understand that he's being quite old school and traditional type but sometimes he need to give some space for his kids to grow even though 2 of them are married. It's not always perfect with marriage. Its understandable for the father wanting a happy marriage but its always good to give some time and space for the whole family. He's not a bad father at all. He's concern and being responsible for his kids after having to lose one in the past. Perhaps he doesn't want the history to repeat itself again in the family. Good thing Waen's grandma gave Sing's dad a piece of her mind before he regrets it.
The grandkids are so cute especially Tuktik. Poor kid have to listen to the shouting and screaming. Its happy ending for Tuktik and her parents too, that's the beautiful part. Cookie is the most calmest dog ever. That fella is a cute dog too. My other favorite character in the drama. LOL! Anyway, the drama has been wonderful especially on Waen and Sing's parts. The rest I'm not too sure. Apart for the rom-com parts, I can say its the typical family story where you and I can see in reality. Happy ending to all. :)
Was this review helpful to you?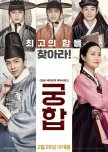 Its definitely in my favorite romantic-comedy list and its good to see Lee Seung-gi made his comeback after two years. Well, the movie is a simple romantic-comedy. Not much of lovey-dovey. Most of the scenes (the power obsessed between among royals & nobles) are pretty much typical for me especially when you watch historical movie or drama. The best part of the movie that I enjoyed the most will be when the princess began her adventure. The funny and little bit of sweet moments started there. There's a bit of actions which I always liked it. Plus, it's good to see another simple yet sweet romantic-comedy movie. Unfortunately, I'm not quite happy with the ending though. So let's put it that way. Overall, its a great movie.
Was this review helpful to you?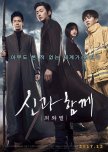 Absolutely my kinda movie. Firstly I'm surprise to see a lot of familiar faces when I checked through the list of casts. I am more surprised to see some of the casts play a character that's actually different than what they usually play in movie or drama especially Ju Ji Hoon as I remember most of his previous characters are more serious and less funny.
The storyline is interesting. There is something that King Yeomra said at the end which struck me a lot and totally agree with him (you gotta watch it in order to find out). During last trial, it really got me to tears. I expect some of Cha Tae Hyun's scenes were funny but not much. It felt more of a sympathy towards him. Even his character is quite different than any of his previous characters that he played before in other movies or drama.
I look forward to the second installment of the movie.
Was this review helpful to you?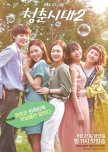 Firstly, I didn't watch the Season 1 of this drama. Secondly, I don't know what really made me started to watch this drama. Somehow I watched this drama from first episode until the final episode. It's a good drama. I didn't exactly went crazy over this drama but I like it nevertheless. I'm not gonna spill the beans on the content of the drama. I will say that this is one of the best drama so far for 2017 and personally for me. I recognized some of the casts because I watched them in other dramas which I'm sure all of you would be the same as well and I tend to check their profiles. Actually there is one reason why I watched this drama in the first place. It's because of an actor, Son Seung-won, who played as Im Sung-min, a close friend of Song Ji-won, who played by Park Eun-bin. I've seen Park Eun-bin in some of her other dramas as well and one of the drama was the latest 2017 drama, "Father, I'll Take Care of You". Each and every characters in this drama has their own stories. A piece of advice to those who haven't watch this drama is please watch the first season of the drama or else you won't know what exactly happen. The second season is pretty much the continuation of the first season and more new characters. It's already terrible of me not watching the first season and already watching the second season, although I did get a bit of glimpse of the first season.
Another reason why I like this drama is because the stortyline of this drama. It felt like going back in time when I was in college few years ago. The close relationship I had with my dorm-mates were precious to me just like the girls at Belle Epoque. It definitely made me reminisce the good old days back at the girls' hostel. My dorm-mates and I doesn't have stories that alike the girls at Belle Epoque but we do go through the ups and downs during our youth. It also showed me to challenges and struggles in society that each of characters had to go through in the drama and I am somewhat go through a bit of that challenges and struggles as well. I can relate myself to Han Seung-yeon's character, Ye Eun. Her struggles of achieving her parents' and extended families' exceedingly high expectations and it always goes down to her showing that good impressions or else she will only give so much of disappointment. In this second season, there are a bit of unexpected things happened to Ye Eun and it turns out good for her.
I am looking forward to Season 3 of this drama. I might watch the first season so I will get a more clearer understanding of the drama. Enjoy watching!
Was this review helpful to you?