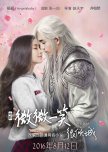 I haven't read the novel but I finished the drama and like most of the times in the movie can't be shown everything so it felt a little bit rushed.
They have made some differences in the movie, like Cao Guang being the same person with Zhen Shui Wu Xiang (the ex of Wei Wei in the game) but is well connected.
I liked more Wei Wei played by Angela Baby, she portrayed more effectively her emotions and feelings.
Jing Boran hasn't the charm of Yang Yang (main actor of the drama) but he played very well the role of Xiao Nai and I liked that Xiao Nai was more talkative and smiled more often in the movie. :D ;)
The scenes inside the game were amazing, it made you feel like you were playing the game together with them. Especially the battle with the dragon in the game was awesome.
Its perfect movie especially if you are an online game fan :P ;) its modern, romantic and sweet without any dramas and it focus more on the online game world.
Was this review helpful to you?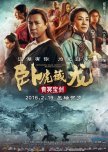 I will keep it shortly and I would just say that I watched this because of the amazing first movie.
But unfortunately it does not reach the level of the previous one in the content of the story, there is not any characters development. (its been around 15 years that I saw the first part and I still remember their love story, which does not apply for this movie at all).
It worth to watch it only for the martial arts, amazing fighting scenes and cinematography.
P.S. I watched it also because of the actor Harry Shum Jr.(character Wei-Fang), which plays Magnus Bane in Shadowhunters <3
Was this review helpful to you?