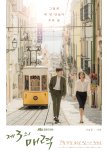 This drama started with light drama with funny scenes and then became serious and became heartbreaking. This drama is a roller coaster ride of emotions.
I like how the characters potrayed their roles when they were in high school and became adults.
I recommend this for kdrama lovers who like different plot of story with twist and turns. I like this because many can relate to their love story and a lesson will be taught to you that true love will never forget the love you shared with each other for the first, second and third time you meet. That's all hehe
Was this review helpful to you?