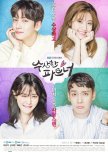 I started watching this drama thinking that it would be another romantic comedy drama.Cast: Ji Chang Wook and Nam Ji Hyun.Although I've seen Ji Chang Wook before (and he is an amazing actor),this was my first time watching Nam Ji Hyun (Eun Bong Hee),Choi Tae Joon(Ji Eun Hyuk).The supporting leads too have acted well.
I started with the first episode and it was good.I thought of continuing further (ofcourse because of Ji Chang Wook).And then....last few minutes of episode 2 and it turns out that this is a thriller-suspense drama! (haha I hadn't seen the teaser or the trailer before selecting this drama )Also,tbh, I love mystery-suspense-thriller dramas and the fact that I wasn't expecting this one to be a thriller-suspense drama was even more awesome! That's when I decided that I just had to continue with this drama!
Since Episode 3 till now,this drama is just awesome! The story is great! The actors have played their roles well .I like Ji Wook & Eun-Hyuk bromance (lol) and ofcourse the chemistry between the main leads (Ji Wook and Eun Bong Hee.) :D So I'd like others to watch this drama(although it's a suspense drama,the more you wait,the more exciting it is to watch the new episode.Btw there are 2 episodes every week so YAY! although they are 30 mins each;so that would be an hour altogether).
Overall:9.5/10
Was this review helpful to you?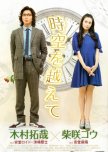 Such a WONDERFUL DRAMA!! And I wonder why there are people who didn't like it.But , I have to say that only a "few" people can understand this drama.Just 1 word for this drama "AMAZING".Kimura Takuya-san And Kou Shibaski-san ,both have played their role wonderfully(Especially Kimura Takuya-san).Every episode is gripping as well as interesting.A wonderful plot indeed!
STORY: What an imagination! A true Sci-fi!A "MUST SEE" for J-Drama lovers and Kimura Takuya's fans!
Acting/Cast: Superb!! Kimura Takuya's acting is just AWESOME!!!
Well,everyone's acting is appreciable.
Music: Love the music,especially the starting song (ARX 11-13).
Rewatch Value:10/10
Overall,I just LOVE this drama!!
Was this review helpful to you?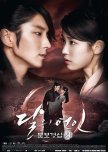 Scarlet Heart Ryeo is one such drama that will make you watch all episodes back to back since all the episode endings were so gripping.Story: 9.5/10 A historical drama about the Goryeo Kingdom(King Taejo and his sons) .This drama had so many important characters(Kings,Princes,Queens) and each had a justified reason for their behaviour with each other throughout the drama.Action scenes were awesome.
Acting/Cast:10/10 Wow! An amazing cast(so many handsome and cute princes and IU(Hae Soo) is just so cute with them :D)This was my first Lee Joon Ki drama and I was just amazed by his role of the 4th Prince(Wang So).He is an amazing actor!!Also the 3rd Prince was perfect as Wang Yo.
This was also the acting debut for EXO's BaekHyun(as the 10th Prince).So EXO-L's don't miss out this one.P.S I love EXO
Overall acting by each character was very good :D
Music:9/10EXO-CBX(Chen,BaekHyun and Xiumin) have one of the tracks as their OST(For you).
My favourite one would be My Love by Lee Hi
Rewatch Value:9.5/10
I've fallen in love with Wang So and Hae Soo
Overall:10/10 Well directed, well produced drama ; great dialogues ,great acting and an amazing cast!Definitely one of the top 3 dramas of 2016. Also,I would look forward to more Lee Joon Ki dramas in the future!
Was this review helpful to you?