If you're still experiencing technical difficulties, please report it
here
.
I am a guy and at first I thought this might be a girly show so I didn't want to watch it, but after hearing some good reviews I decided to try it out. I'm so glad that I did because it was great!!! I really loved it. The story was great, the comedy was great, the romance was great, the life lessons were great, the acting was great, and the little kids were great. Almost every episode had 1. something that made me laugh, 2. Something that broke my heart, and 3. Something that touched me. This show managed to get my heart burning/breaking/soaring a few times. Teared up a few times too, but I didn't cry because you know, I'm a guy. Anyways, Zenkai Girl is definitely worth your time.
Was this review helpful to you?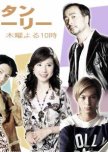 Waaaaaaffffeeerrrs!!!! You know how a warm cup of coffee in the morning can wake you up and brighten your whole day? Manhattan Love story is like that. After trying out a few different shows and being in that awkward stage of not knowing what I want to watch next, I finally landed on a good one, Mahattan Love Story. It is a definite cure for drama-slump-idis. I'm so glad that I found this gem of a drama because it's freaking hilarious. It's definitely a good mood drama. If you enjoy smiling, grinning from ear to ear, and busting out laughing then this drama is for you.
Also The story is really creative. Forget love triangles, how about love octagons lol. But it's the characters that make the show. Tenchou, the main character, is a barista who hardly ever speaks out loud. Much of the show is us hearing his thoughts and laughing at his facial expressions. The other characters are also great. Too many good ones to name. But trust me, "I say this from my experience, my life and my soul," Manhattan Love Story was Great!
Was this review helpful to you?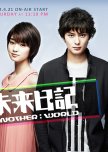 Let me start off by saying that Mirai Nikki has more than one amazing concept. In fact, it seemed to be a combination of a few of my favorite movies, but I won't tell you which ones because that would be a major spoiler. Anyways, Mirai Nikki is a great show. The concepts alone make sure of that. Unfortunately it's not a masterpiece, which really sucks because it definitely had the potential to be.
The story is awesome, however the show itself lacks a certain flow. I'm not sure if this is due to the cinematography, the directing, or the production, but something just felt a little cheap about it. There has been a few other Japanese suspense shows that I've watched that have this same problem. It's a lack of professionalism, or perhaps movie magic that makes you feel like the fantasy movie world is real. It feels like I'm listening to someone trying to play a beautiful song but they're just not hitting all the right keys at all the right times.
That aside, 65% of the way through, the show changed course in a way that made me put most of my criticism on the back burner, and from then on the overall story continued to boost my approval of the show.
The acting wasn't bad, but it could have been better. Gouriki Ayame was so freaking cute as Yuno though. She definitely stole my heart. But I do feel like the acting would have appeared better if the show would have been produced better.
Overall I would say that Mirai Nikki is worth watching, but you're going to have to be a little forgiving while watching it. Maybe in the future I'll watch the anime, or perhaps one day they'll make a remake that will enhance the show and make it the masterpiece that it certainly could be.
Was this review helpful to you?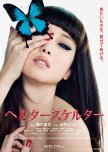 This is a film about the exposition of vanity and the price people pay for fame, and this theme carries the story through all of it's tragic intensities. No, this isn't your run of the mill cutsie story, but it is a mature, edgy, dark piece of art. I love how visually spectacular every scene is. You can tell they put a ton of effort into every set. I can't get over how aesthetically pleasing the film is. And Erika's acting was exceptional! Most of us know how amazing she was in 1 Liter of Tears, and she is no less amazing here even though the roles are worlds apart. In 1 Liter of Tears she played a sweet, strong, optimistic girl battling a terminal disease. In Helter Skelter she plays an adored celebrity who behind the scenes is lost in a very dark place. And let me say one thing, tortured people torture people. This film shows the extreme end of overdose on the drug called fame. One reason why I've never envied celebrities too much. And I should warn you that this film is for mature audiences only. Seriously, be prepared for some mature scenes. But all in all, it's a 10! I loved it! There's a lot that can be learned from this film.
Was this review helpful to you?
This drama is so great! It's sooooo much better than the typical teacher drama! There is so much more depth here. If you like psychological dramas then you'll like this, as it delves into the psyches of students and teachers. It also deals with different values and philosophies that people in society have, and it definitely doesn't shy away from serious issues that students and faculty actually face. I loved the music. I loved the way they used color. Both of those things made the show feel more creative and unique. I loved Suzuki Sensei, his rationale and his response under pressure. He has such a great way of dealing with things, but it's funny watching him sweat too, haha! The students were great also. Watching some of them snap was hilarious in a psychotic way lol. But they also came up with some impressive judgments, which makes you smile. The drama with the other faculty members and Suzuki's kanojo, Asami, were also an essential and interesting part of the show. All in all, this drama is entertaining. I would definitely recommend it.
Was this review helpful to you?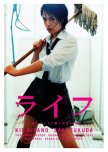 LIFE
34 people found this review helpful
Holy Crap! Life is insanely good! You need to watch this! Life is a drama like no other. At only 36 minutes per episode, It's a fast pasted thrill ride from beginning to end. At first there are so many utterly terrible things happening that it's hard to watch, but for some reason you can't stop watching. This is do to the amazing cinematography and the infectious OST. The best part about Life is that it has several amazing messages. That's one thing that makes Jdramas so great. There's actually morals in the story rather than meaningless crap. Life has an amazing Christian message to it even though there's no mention of Christianity. Romans 12:21 - Be not overcome of evil, but overcome evil with good.
Was this review helpful to you?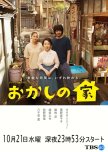 I would give this an 8, which for me means, I liked it a lot, but I'm giving it an extra point because it has masterpiece qualities to it. It's such a unique drama. It's short, slow paced, and it doesn't focus on a direct story line, but it has such a powerful way of invoking the feels through it's atmosphere, music, dialogue and characters. This drama just had a unique way of coming out of the screen and working on the inside of me. There were several moments where I felt touched and moved, but what was interesting was that it was not in a way you would expect. It was different in a good way. It was even sad, but in a good way. I also really loved the movie quality film production, and the acting was very good.
Was this review helpful to you?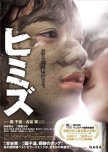 Himizu
10 people found this review helpful
I just watched Himuzu and it was amazing. It took no time at all to immediately reek of Sono awesomeness. It was intense and poetic and disturbing and strangely captivating like all of his movies are. The OST really gets a hold of you and it heightens the surrealness of the movie. You can also see some of the Suicide Club type messages in this one where it seems he's confronting some of societies issues. I also like that he uses the same actors. I love when directors do that. And the actors did a great job, especially the young girl. I also felt that Himizu was a little bit cleaner and inspiration than his other films. Sono Shion fans will not be disappointed. I highly recommend it.
Was this review helpful to you?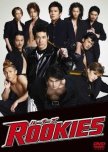 ROOKIES
8 people found this review helpful
Even though I'm not a big fan of the "teacher reforms the students" genre, Rookies is very well done. It really gets you emotionally involved to where you can rejoice when the team rejoices and weep when the team weeps. I can see why it won best drama for the season it aired in. I enjoyed it a lot. I also thought that it made for an excellent allegory of Christianity since Kawato sensei was, IMO, the most Christ like character in any drama I've seen. He constantly believed in his students and encouraged them into healing, transformation and recovering their dreams. Oh and the baseball games were intense. They were my favorite part of the show. The drama involved made the games very exciting. There's also a nice episode layout where it's not episodic like many other teacher dramas. The one flaw however would be that if you were to marathon it you might get a little sick of the heartwarming moments, there's a lot of them. Thankfully I took a couple days break between some eps so I didn't, but I could see how someone could.
Was this review helpful to you?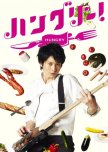 Hungry!
9 people found this review helpful
This drama was easily the best Jdrama of the winter/early spring season. It kept me smiling from beginning to end. Maybe it's because it was currently airing when I watched it, but this was one drama that I didn't want to end. Every episode made me ureshi (happy). All the actors did a good job, especially Takimoto Miori who played Chie-chan. She was adorable. The OST was also infectious. I found myself both before and after an episode singing, "Love me baby." And contrary to what the other reviewer said, it does stay on direction, and it does not just become episodic. The story persist through all 11 episodes and each episode is fresh and not redundant.
Was this review helpful to you?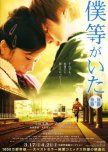 Just finished both parts of Bokura ga ita. Ahhhh... I think I movie-gamsed about 7 times. These two movies were fantastic. The chemistry between the two leads is outstanding. Yoshitaka Yuriko was absolutely adorable as Takahashi. They really picked the perfect girl for her part - not overly good looking but brilliantly charismatic. And Ikuta Toma's acting was the best I've seen him do since Hana Kimi, not to say he's anything like Nakatsu in this, but he did an awesome job. The romance had my heart bursting like the fireworks in the movie, and the drama made for an excellent story. I've never seen the anime or read the manga, but these two movies were great! I highly recommend them.
Was this review helpful to you?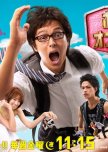 I thought this would just be a funny story of a nerdy guy trying to win his office crush, but it turned out to be a lot more. For starters, it got really complicated and exciting. It made me watch several episodes back to back. It was really funny, but it wasn't as shallow as I expected it to be. Surprisingly, there was a lot of growth, love, forgiveness, and redemption seen in almost all of the characters. I was really happy with the ending and the character development, and the drama itself was a lot of fun. So if you're in the mood for something funny, and you have the patience to watch a character grow then I would recommend it to you.
Was this review helpful to you?
The remake started out good but eventually it just felt like a cheaper version of GTO. The original was a masterpiece and this one was just average. The new Onizuka was just not even comparable to the original. The side cast is what made this interesting at first, but eventually even they couldn't pull off the show for me. I wouldn't say that it was bad, but it just wasn't that great IMO. I'd say that if you've already seen the old one then don't bother watching this one unless you really really want to. And if you have not seen the old one then watch the old one instead of this one.
Was this review helpful to you?