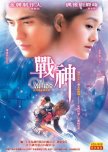 MARS
1 people found this review helpful
I'm not a big fan of watching classics or old romances but this drama literally made me believe in "OLD IS GOLD".
This is drama is way too good in every perspective. The storyline has always been best because of the manga but many times the drama or adaptations don't do justice to the main thing. But in this case the drama intesified the beautiful story even more!!!!!
The actors were incredible and did justice to the characters. The emotions they showed were so raw and tear worthy.
The chemistry between the main leads and the swoon worthy kisses made my day.
We can't thank enough the side actors for their exceptional acting cause without them the main leads wouldn't have shined so much!!!!!
All together this drama is awesome. This is a ride full of emotions such as first love, self acceptance, tragic past, friendships and importance of family.
I would definitely recommend you to watch this.
Was this review helpful to you?