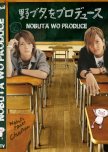 No Words to describe the after effect of completing this show. It left with tears of happiness. The story is so realistic. Its touchy. What a great finish it has.
Mindblowing performances by the three lead actors - Kazuya Kamenashi(Shuji),Tomohisa Yamashita(Akira) and Maki Horikita(Nobuko/Nobuta). The young actors have so much understanding of their characters.Can't think,at their age,I was so intelligent and understanding. Kudos to them.Out of the three my favorite is Kazuya Kamenashi. He looks so handsome. He shows his three dimensional side too well.
Kazuya Kamenashi plays the role of Shuji who is the most popular guy in the school. He wants to make everyone happy and keep up his popularity.
Tomohisa Yamashita plays a eccentric guy Akira who wants to be friends with Shuji. Though he is rich,he likes to live like dime on street.
One fine day he meets a shy and introvert girl Nubiko who gets contantly bullied in school.Though Shuji acts cool in front of his classmates,he and his friend Akira try to build Nobuko's confidence and make her a popular girl so that no one bullies her. After several persuasion and inspiration from these two guys,she starts putting effort in changing herself.
A deep friendship starts building between these three and they do lots of activities to promote her popularity.
This drama is about friendship between three people.There is no melodrama or over the top scenes. Everything seems natural. The girl Nobuko(named as Nobuta) doesn't undergo any dramatic change. The change seems gradual and realistic. There is no heavy-duty romance and love triangle as such. The school premises are set realistically and change that happens in the three people's life is gradual. You can understand and feel all the three characters.
Its a rare gem. Very few stories are written so well.Acting is top notch. Though the support cast is good,the lead three actors shine in their roles.
Also,it needs to be mentioned that the theme song "Seishun Amigo" is sung by the two male leads who are also pop idols. The song is great and it is picturised with two cute pigs(anime).
Was this review helpful to you?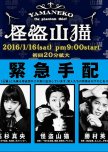 Hi,
Well to start with,I have to mention that this drama is superbly entertaining till the end.
The central character to this drama is Yamaneko meaning 'wildcat' played wonderfully by the talented Kamenashi Kazuya. This Yamaneko's antics make you crazy. He has athlete's foot so expect him in flipflops and rubbing his feet all the time. Secondly he is terrible(bad) singer who loves to sing but hates it when people point out this to him. I wonder how difficult it might have been for Kamenashi to sing that way,considering he is one of the best singers. Thirdly he loves cup noodles. When he is not doing anything,he will be eating cup noodles. Fourth, he occasionally pees in his pants and never accepts it. Fifth,wears cat hats that look so cute on him. Not to mention the weird glasses that he wears.
With all this eccentricity,he is amazingly intelligent and witty. He exposes crimes and criminals with vigor. Has heart of gold and wants japan to see sea of change.
What the good thing about the drama is that the crimes are exposed in a funny and hilarious way. There are cheeky one liners uttered by Yamaneko that make you smile.Never in the drama you will feel bored or sad.
This drama is basically a mystery drama at its core. You will have goosebumps every-time twists and turns unfold. You need to watch the drama till the end to uncover the mystery.
Kamenashi Kazuya is a versatile actor. He has diplayed wide range of emotions in this drama. Along with Kamenashi Kazuya,Narimiya Hiroki as Katsumura Hideo
Hirose Suzu as Takasugi Mao are important characters. The rest of the support cast is excellent. The drama is made on good budget and the product has turned out to be excellent.
This drama definitely needs a sequel.
There are lot of interesting things in this drama that I have purposely left out. You need to watch them.
PS : In episode 6,you will find Nobuta re-union. Horakita Maki will make a cameo.
Was this review helpful to you?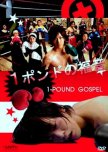 One of the best dramas I have watched. Watch it for unusual love story between a gluttonous boxer(Kamenashi Kazuya) and a Nun(Kuroki meisa). Kamenashi as Hatanaka Kosaku has portrayed childlike innocence and enthusiasm. He is refreshing and looks good with muscles compared to his earlier leaner self. His character portrays effervescence. Kuroki Meisa as Sister Angela does a decent job. The support cast is also excellent. This is not the typical serious,melodramatic love story. This love story is funny and hilarious. Its a feel good drama with happy ending. I thoroughly enjoyed it.
Watch it if you want wholesome entertainment.
Was this review helpful to you?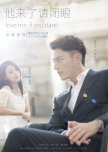 What a drama! Loved watching this Psychological thriller after a long time. Wallace Huo.. What an actor. The drama rides on his shoulder and he is perfect as the investigator. The mystery is too deep and keeps you glued to your seat. Mystery and Romance and inter wined perfectly. This Drama is a must watch.
Cheers to Wallace Huo!! He is so handsome. Couldn't take my eyes off him.
Was this review helpful to you?