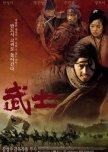 This is in my top 3 favorite movies of all time. I've watched it countless times and of course I will watch it again.
The plot is really rudimentary. A bunch of people is chasing another bunch of people for two and a half hours. But!
Three things that make those 2,5 h worth your time.
+ it's freaking beautiful. The fotografy is a piece of art. How to take dust, rags and ruins and make gorgeous pictures, that's the magic of cinema (yeah, Wong Kar-wai did it first in Ashes of Time, ok).
+ the action scenes. We get to see all sorts of battles, duels, skirmishes, many tactics, lots of blood (and arrows rhrough necks for some reason), and all of it is rather believable. No wire action here. The fighting is beautifully filmed (by someone that actually knows how to break the ''hold the camera steady when filming action'' rule) while managing to appear realistic.
+ all of this is nice but this movies great strength is the characters and the relationships between them. I don't want to make this review too long, so I'll just write that this movie have a great cast that brings to life every single character down to the last random merchant.
I can't recomment this movie enough.
Was this review helpful to you?