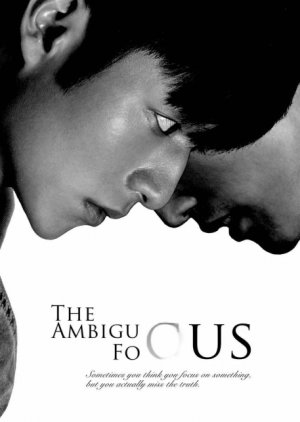 The Search for Identity & Self-invention
I just saw the full length movie version of The Ambiguous Focus (2017) not the 6 episodes drama (2018) and was pleasantly surprised by the high quality of both the story and cinematography. This is not your typical BL movie with fluffy, hilarious, or angsty scenes about teenage love. Right from the start the viewer is pulled into mature scenes with a gay couple trying to maintain their relationship.

The male leads, Nan and Zhen, know each other since school, their love story is shown in the prequel Kinematics Theory (2018). Both males are introverts, one is highly intelligent, highly sensitive, struggling to become a writer, the other is a good looking sporty guy who earns a living for both of them combining an office job with housekeeping. Just like the title their story is told, and filmed in a cryptic way, with different points of view from both men alternately, using a voice over, and complemented by comments of their friends.

Plot
Nan and Zhen are nearing their 10th anniversary together, Nan is secretly saving money to buy a new apartment for them which makes him vulnerable for a rich guy named Jimmy who likes to bribe and sabotage Nan into a relationship with himself. Suddenly Nan's father must be hospitalized and from that moment on Nan's lot spells disaster, forcing him to make rash promises and decisions that have a huge impact on his partner Zhen, and his own future with Zhen.

Pros
I've read a lot of comments on the sadness of this movie, or the quality of acting, but I don't see it that way. First, the story has an open ending, second the actors were eye candy, their acting above average even natural at times, third, I found the story beautifully told, not overly dramatic... although living in a homophobe world is dramatic enough as shown in the side stories of gay friends who aren't living on cloud nine either.
The scope is on relationships, and questions about love. "Do I really love this person, or do I love it that he needs me, and I need him? Do I love him so much that I can withstand other alluring people?"

Cons
Misunderstandings are needed in a script to give a boost to a story, but I hate it, personally. A lot of grief could have been avoided if the characters would speak their minds, not only in voice overs. Further I disliked the passiveness of Zhen's character, but again, that's personal taste.

Verdict
This movie reminded me somehow of Oscar Wilde's "The Importance of Being Earnest". It shows that people are busy with image building and pleasing others, but it all comes down to our search for identity and self-invention to make relationships work. Go watch it!
Was this review helpful to you?