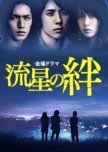 LOVE this drama. The main reason I watched this was because of Toda Erika and Ninomiya Kazunari. I wasn't a big fan of Nino before but I started watching Arashi variety shows and found him to be very good-looking lol. After watching Ryuusei no Kizuna, I have become a Nino fangirl xD
Story: Great story. Probably the best thing about the show. The storyline seemed really interesting and it sure was. I was relieved that it wasn't very dramatic and was actually very funny because I'm honestly sick of watching melodramas.
Acting/Cast: I think this was the second best thing about the drama. Nino is seriously an amazing actor. Now I know why people say he's the best actor in Arashi. Erika was good here, better than any of her other roles I've seen her in. I haven't watched Nishikido in anything but I think I'll add some of his dramas on to my plan to watch list :)
Rewatch Value: I gave it a 10/10 since I'm already rewatching it even though I just finished it 2 days ago.
This is an amazing drama and I would recommend you to watch it. I loved every moment, from start to beginning and I assure you that you won't be disappointed.
Was this review helpful to you?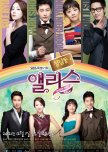 The main reason I watched this drama was because of the leads. I absolutely adore Moon Geun-young and Park Shi-hoo is one of my all time favorite actors after watching The Princess' Man.
The first 2 episodes were a bit boring but I was glad the drama started improving. Episodes 3-6 were hilarious and fun to watch but it all just started going downhill from there. I think it had to do with the fact that the later episodes weren't as comedic, which I think was the only reason I liked the drama. I just started to get bored to the point where I skipped most of the scenes and read the recaps to see what I missed.
I was a bit disappointed by Moon Geun-young's acting here. Usually, she's amazing but I was really annoyed by her here, though it might also be because Se-kyung was just such an annoying character. Park Shi-hoo was great but his character annoyed the hell out of me as well. Cha Seung-jo is funny and all but he's kinda kookoo. So Yi-hyun, in my opinion, delivered the best performance. I never liked her before but watching this drama completely changed my opinion of her. As for Kim Ji-suk and the one who plays Yoon-joo's sister-in-law, they didn't really do anything to stand out.
The music was amazing. I love all of the songs and I listen to them about a hundred times a day despite me not liking the drama that much.
I wouldn't recommend this drama to anyone. It wasn't horrible but it wasn't that good either, so I think it's better for you to not waste your time.
Was this review helpful to you?