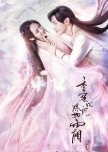 **general spoilers if any because it's hard to talk about it without mentioning general ideas (no specific scenes/details but characters are mentioned)
omgg it's been awhile since I watched such a good drama. I just finished watching it and I already want to rewatch it. This literally blew me away with just everything and omgg the emotions are so high with this drama.
Plot: I really dislike watching dramas where its just the same cycles over and over again of the main leads breaking up and getting back together constantly (like for example, every other episode), so I was super happy with what the writers for this show did with this drama because we none of that (yay!). There was so much creativity into writing this and there are SOOO many good plot twists. The plot is far from boring and invokes so many emotions. There are both really funny parts and really sad parts ANND those REALLY CUTE romantic scenes that most everyone lives for. The plot brings together fantasy elements and romance elements with a hint of wuxia here and there. ALSO the ending was everything you would ever want esp since nowadays so many drama endings are the absolute worst. This drama does a good job of closing out all (or most but I couldn't tell if they missed any) of the plot holes and tying everything together.
Characters: I was really happy with the character development in this drama. The changes in each character are so subtle yet if you compare two eps far apart from each other, you can tell the difference in most of the important characters (e.g. JM). They did such a good job of revealing the backstories, intentions, etc. of characters as well in a way that would be either 1. wow I didn't see this coming or 2. i wanna cry. I LOVED the way that JM and XF fell in love and gradually realized what they meant to each other. Also, some people have mentioned in the comments that they don't really like the amount of screen-time that the demon princess gets, but personally I kinda liked the storyline between her and MC as well as their characters, but that might just be me :P The demon princess (LY) is kind of that loyal badass sidekick character with a soft side and sometimes you can't help but cheer her on. Also shoutout to Moon Immortal character cuz he just made me laugh every time even if he was being serious. Of course, each character has those times when they're being annoying (esp the villainous/evil characters) but overall none of them stood out as being terribly written and I can say that I was even happy with how the evil characters were.
Costumes: Might seem weird to mention this but I just really enjoyed seeing how each realm had their own distinct style and how each were shown so beautifully. Little things like hairstyle, accessories, makeup, clothing composition, etc really add to the drama in a good way. (Example: bird realm's clothing [Sui He] compared to flower realm's clothing [JM/ Chief Zhang])
Acting: I haven't watched that many dramas with YZ in it and I didn't expect too much going into it but wow her acting was so great and the way she portrayed various emotions was crazy. The way she could make you want to cry is insanely amazing and her chemistry with DL is really really good. DL's acting is also really good, as expected, and the way he portrays pain and heartbreak is incredible. Aside from those two, I don't really have any complaints with any of the other actors/actresses. They all did a great job :)
Music: warning- the music is so perfectly inserted that you wanna cry like every time there's a sad moment LOL. No complaints with the music---I think all of the selections fit the drama really well.
Animations/CGI/Production: As with every fantasy drama especially, a lot of animating and cgi needs to go into the production since the setting includes places like Heaven, Hell, and various other "realms". The realms were all animated so well, and while there are TOMPB vibes going on (esp. the flower realm and the heaven realm), it stands distinctly on its own beautifully. The colors are amazing and I love the clouds loll xD The cgi just gives it the right magical feeling. Another commenter mentioned this as well, but the dream beast that stayed by RY's side throughout the drama was animated so well. You could see all the details and the colors and everything was just so real.
My Favorite Part: mini spoiler but I absolutely loved the part when JM and XF went to the mortal realm and lived like mortals for their "redemption" trial. Free from their immortal responsibilities and burdens, their characters were just so pure and raw. It made me laugh, smile a ridiculous amount, and bawl. When dramas bring out every type of emotion there is, you know it's a good drama.
Overall: MUST WATCH ; this was on my "to watch" list for the whole summer, and I'm so glad that I decided to start now and it was so good that I binge-watched for 3 days and finished it. This is the kind of drama I've been waiting for since watching TMOPB. Definitely rewatching in the future 10/10 recommend. Sorry for the excessive length of this review & if I repeated myself multiple times :P
Was this review helpful to you?