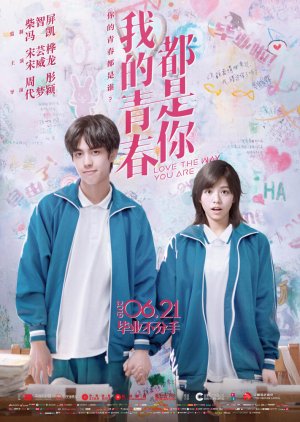 This review may contain spoilers
Many comments I've read said if I wanted to watch something similar to Le Coup De Foudre I should watch this and I did. The trailer kinda fooled me and got me hooked into thinking that this could help me stop binge watching Le Coup.

It's not a total disappointment but I found some loopholes. I think this should have been a mini series or a drama special with 2 episodes.

The leads were fine with their roles. I liked the nerdy ML at first but found it a bit creepy that he planned her life so he could fit in. In reality that's creepy but in the movie world I guess you'd find it endearing.

The confession scene was like a summary of how he plotted to fit in her life somehow and maybe for her to like him too. I can't blame him though. The FL was endearingily cheerful a kinda person you'd like to be friends with.

The classmate from high school is kinda an ass I mean she doesn't like the ML but since she thinks he likes her he can't like anyone else and when he does she starts to act like she likes her too.

I wish the senior who flirted with the FL had more scenes I think it would have added some jazz to the story.

Childhood sweetheart themed stories is a cup of tea I like but this movie is a so so. I would definitely watch it again just to feast my eyes on the ML whose really handsome after the makeover and the adorkably cute FL who lives her life to the fullest righteously.

I have to say this does not compare to Le Coup but if you want to watch something lighthearted and put a smile on your face this movie is worth watching.
Was this review helpful to you?