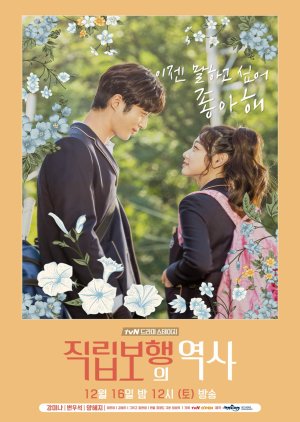 This review may contain spoilers
I only watched this because of Mina. Firstly it was super hard to find the film with English subs. I only found one that had 80% of the sub titles, but I still watched it of course.
-Warning there are slight spoilers in my review, but I made it as less revealing as possible-
The story was weird I guess. I don't know how to explain it. It ended after the confession, I don't understand why both of them smiled. I thought they were both mad at each other... But I guess its because of their strong friendship they were able to get back together.
The cast is good. (The male lead looks so young!! I thought he was a actual student, but he's actually 26! ) His character in the film is annoying, he's such a jerk for not telling Mina about the jewelry. Mina character was a bit creepy, she basically stalked the male lead. But that part made me laugh. I love Minas' dad. He's so funnnyyy. He made me laugh so hard at the dinner scene. But when he hugged Mina I was tearing up. I love how Mina friends deal with her problems, it's so funny.
The music fitted each scenario well.
Re watch value of this film is not really cause its not interesting enough for me to watch again. But if there was a second episode or second season I would definitely watch, cause it was left on a cliff hanger and so many plot holes that needs to be explained!!! It would be better if they made it longer or into a series, but basically all drama stage films leave you questioning many things about the film
I would love to see more of Mina and her dad acting.
Was this review helpful to you?