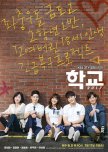 This was my absolute favorite out of all the School series. Okay okay, I'll admit I didn't finish the other two, but I really did try with them lmfao. But that's neither here nor there.
This drama is something special. It's not just your regular slice of life romantic drama, it really sucks you in from the first episode and then makes you fall in love with all the characters, again and again. The casting for this drama was spectacular. I was rather surprised to learn that this was Se Jeong's first acting role. I was never one for the Produce 101 series but I didn't realize she was actually a kpop idol haha. Either way, she really knocked it out of the park! It kind of reminded me of my girl Eunji when I first saw her in Reply 1997. She's got that spunk, for real. I can't wait to see her again in another series someday.
That brings me to our main attraction, ofc, Jung Hyun. Boy am I happy this guy got a lead role. He clearly deserves a thousand more, and I hope this has really opened everyone's eyes to just how talented he is. I loved his portrayal of the cocky, sweet, kind-hearted but mischievous Tae Woon, and he really made the show what it was. I think Tae Woon was the reason I continued watching episode after episode (I'll admit, I'm kind of in love with him.) The supporting cast were just as fabulous, with rising stars Dong Yoon and Ji Hoon. I also adore Park Se Wan and after seeing her refreshing role in Radiant Office, I'm eager to also catch another one of her roles sometime! Even though I loved to hate the arrogant douche that was Hee Chan, he really made that character his own.
The story was entertaining; maybe a little too surreal, but let's be honest, its kdrama. Although it didn't particularly 'break the mould,' I think it knew exactly what it wanted to be and where it wanted its story to end up. I completed the drama feeling pretty damn satisfied for the most part.
Although I can't really say much about the music, (if I'm honest I was far too engaged with what was happening to even really take much notice), I still really loved the instrumental track and felt really pumped whenever I heard it. It really went with the theme and the setting of the drama too. I feel like a couple of the tracks (the ones I did remember) also helped to really tug those emotional heartstrings, because there were a number of times I would find myself with tears flowing down my cheeks. That might have had a little something to do with the beautiful chemistry between our fabulous main leads though.
Now, anyone who knows me, knows I don't rewatch things very often. Dramas, movies, shows, I just never really bother, nor enjoy it. But I think I would rewatch this a thousand times, if only to see that overwhelmingly sexy smile of Jung Hyun's over and over. Because really, if anything, that's a reason enough to dip your toes into this brilliant series.
I still am gonna go all out and say I'd love a one off special, but I know that's wishful thinking lmao.
Was this review helpful to you?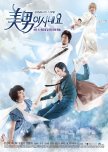 Although it's been years since I originally watched this, as I was browsing through my list I came across it once again and felt it was about time I write a review. I'm not one to normally write reviews for anything I've watched (probably more due to laziness than anything else) but this show truly deserves to be honoured for being one of the first Korean dramas I watched that continued my addiction to KDrama.
One of the main things that drew me in about this drama is most likely the cast, who although at the time I hadn't heard or seen in anything else, immediately drew me in with their fantastic acting and brilliant cast chemistry. This would be the drama that produced my love for the bands CN Blue and F.T Island, as well as a new found interest in Jang Geun Suk.
The story, although highly unrealistic, was funny in all the right places and easy to appreciate and really get attached to. The relationships between all the characters were adorably cute, including that of Jeremy (Hong Ki) and Shin-woo (Yong Hwa). Park Shin Hye, although an actress that is to this day much discussed, played the role of Gom Min Nam fantastically, and I applaud her for her performance in this drama.
Though I'd not heard much Korean music besides that of Boys over Flowers, I loved hearing performances from all of the cast members, especially the classically cute solo performance from Shin-woo.
If you have yet to dive into the world of You're Beautiful, don't hesitate as this may just be the next drama you fall in love with! It still to this day has an incredibly special place in my heart :)
Was this review helpful to you?