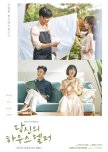 "Your House Helper" is a slice-of-life drama that focuses on day-to-day issues faced by Koreans in their society, namely three women: Im Da Yeong (Bona), Yoon Sang Ah (Go Won Hee), and Han So Mi (Seo Eun Ah).
As part of the main story topics such as women's health, misogyny, overwork, rape, abuse, and gender roles are brought up and handled in a sensible manner though at times failing to push forward when the timing demanded so. The #metoo movement is hailed and discussed as an important movement for women, something unusual for a k-drama and a bold step to make as women's struggle in south Korea is heavily opposed by chauvinism and an excruciatingly patriarchal society.
Since this is a story that puts emphasis on women, the three leading women take the centre stage with each character facing particular issues related to their personality, workplace, and personal struggles. Ha Suk Jin, Lee Ji Hoon, and Jo Hee Bong undoubtedly play story relevant characters, but they're not steering the helm or the main driving force of why you should watch "Your House Helper."
The cast was well selected -- the actors matched well the characters they were assigned, and I have to praise whomever cared for all the small details, especially in the fashion department: they all look great, but never overdressed.
When it comes to the acting itself the first episodes are rough on Bona - as she's among the youngest in the cast - but she does improve with her character's development and I digress with anyone who argues she was not a good choice to play Im Da Yeong -- she captured well the demeanour of a young woman dealing with hardship and not knowing what to do next. Yoon Sang Ah's character initially has more on screen chemistry with Ha Suk Jin's, something which may cause some conflictive feelings as a viewer, but this quickly dissipates away as Lee Ji Hoon enters the scene and becomes more prominent. I am somewhat disappointed with the screen time Seo Eun Ah's character had but I should praise that her issues were handled in a respectful manner, although again constrained by the conservative mainframe of Korean society. Overall the male leading characters did a good job, it's good to see Ha Suk Jin play a more sensitive, less gruff heads on character -- really had to drag him out of the office to become a house cleaner.
"Your House Helper" has an upbeat soundtrack with its trademark tune whenever some house cleaning action begins while reserving more sombre tones when serious subjects or more dramatic moments are handled. There is nothing particularly outstanding about its music but it never feels repetitive and blends well with all scenes.
Does this 32 episodes long drama have re-watch value? Each episode is roughly 29-30 minutes long and easy to watch through. If you enjoy the overall story, you can expect yourself binge watching through several episodes and not noticing the time. The overall plot and side stories are always on the move, there is no mid story dragging/stalling, and since there are no particular villains you can expect a drama grounded in reality with a pinch of idyllic hope, sunshine, and a quirky golden retriever.
Was this review helpful to you?
"Familiar Wife" is yet another excellent drama from our friends at tvN that gives a new spin to that old trope of travelling back in time to change the future for better -- who wouldn't want that? But no change comes without its consequence as Cha Joo Hyuk (played by Ji Sung) learns that his inability to communicate with his wife Seo Woo Jin (played by Han Ji Min) and the contemporary reality that women have to bear the brunt of housework, family, and their own jobs forms the perfect storm for a spineless male lead character to become desperate in his own misogyny and breadwinner mentality that he seeks a way out of it.
Story:
- As most dramas produced by tvN you can expect a decent quality story that resolves around Ji Sung and Han Ji Min's characters, their relationship, the effects and consequences of time travel, and somewhat of a social commentary (as far as any k-drama go) on marriage and couples. Cha Joo Hyuk (Ji Sung) quickly realises that despite his escapist yearning and selfish decision to alter the present his new life becomes a ceaseless battle as he embraces that he still loves Seo Woo Jin (Han Ji Min) but also has to content with the new reality he lives in. Meanwhile Seo Woo Jin (Han Ji Min) has her own life and agency, but also experiences side effects from time travel and a curious familiarity towards Cha Joo Hyuk (Ji Sung). Details about their past are featured prominently through flashbacks that blend seamlessly with the main plot and explain why things are the way they are.
With many heavy hearted moments between romance and melodrama, there is also time for some comic relief and humour between the cast which offers some relief from the overall seriousness of "Familiar Wife" -- for its less 'realistic' aspects, this is a mature story that covers the ups and downs of being married and how uneven relationships do not work and are toxic to the point they slowly transform people from their best into their worst, whether they can recognise it or not.
"Familiar Wife" concludes in a very heart warming way, delivering a satisfying positive ending after such a long journey even though [in my humble opinion] Cha Joo Hyuk (Ji Sung) didn't deserve it.
Acting/Cast:
- After two years absent from drama series, Han Ji Min makes a triumphant return and is arguably the acting powerhouse of "Familiar Wife." Seo Woo Jin stands out like a bright sun and Han Ji Min displays her skill and versatility as an actress, making her character feel true with all its quirk.
Ji Sung and Kang Han Na are also prominent actors in this story but I would say that despite all his experience and screen time Ji Sung fails to deliver most of the times except in the more emotional, heart catching moments of the story while Kang Han Na fits the shoes of Lee Hee Won perfectly both in attitude and aesthetics, though some people may have some criticisms over her actions and embodiment of certain stereotypes/tropes.
"Familiar Wife" has a pleasant cast of friendly characters and actors that fit well into the story and play the role well when the time demands so, some even having their own side stories with pinches of romance and family drama that involve the leading characters as well.
Music:
- "Familiar Wife" has a fine soundtrack with a few notable songs that play during crucial points of the story as well as at the beginning of each episode. The music itself matches the tone of the story and never feels repetitive.
Rewatch Value:
- With 16 episodes of (more or less) 60 minutes each the re-watch value is high as there are many scenes, especially the flashbacks ones, which are worth revisiting for their good nature and simple joy, not to mention the more romantic, comical moments that happen in particular episodes. Overall pacing of the story is good with the exception of episode 13-14 where the plot seems to slow down to stalling point but it quickly picks up back again episode 15.
--
"Familiar Wife" is far from being a "perfect drama" (I don't believe those necessarily exist) but it's a very compelling story in the world of the time travelling trope, and if anything it's worth watching for Han Ji Min.
Was this review helpful to you?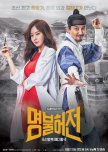 "Live Up To Your Name" is a concoction of genres by the fine alchemists at TVn, proposing to you the following scenario: what if a historical figure of traditional Korean medicine - Heo Im - managed to time travel to 21st Century South Korea? What would he do? Since scholars in Joseon kept no record of other prominent time travellers ("Queen in Hyun's Man" and "Faith"), we as viewers are once again regaled with the nowadays uncommon drama story of a proficient figure trying to work out what a television is, or why carriages somehow go extremely fast without any horses pulling them.
Uniting both humour, time travel, and romance aspects of the story is the medical theme: "Live Up To Your Name" presents a sensationalist clash between hard boiled rational medical science against traditional Korean medicine in form of acupuncture. To a certain extent it conforms to contemporary tendencies of displaying distrust towards medical science for various reasons (in most cases unsubstantiated) and looking to alternative medicine as a solution. This becomes the focus point in the starting rivalry between the lead characters, Dr. Heo Im and Choi Yeon Kyung, as they act as representatives of both worlds. This rivalry slowly but steadily progresses into a dynamic relationship with complicated feelings getting entangled and their personal growth taking turns at improving. While some episodes act as filler and may stall the main plot, I can't say I felt this was an annoying impediment as pacing quickly jumped back into action. Perhaps more disappointing is the ending itself not because of how it ends but rather the time that is dedicated to it -- not enough in my opinion.
On the acting department Kim Nam Gil and Kim Ah Joong are remarkable in their performance as the leading actors, as well as the remaining main cast and support roles. Special shout out to Choi Chun Sool for playing a loveable yet extraordinarily grumpy grandfather. The lead actors clearly put a lot of effort into their characters, and there is an undeniable chemistry with a few spicy scenes that may result in a feverish state that may require medical assistance or acupuncture.
The weakest part of "Live Up To Your Name" is its soundtrack as it offers nothing out of the ordinary and it's mostly unnoticeable. I personally found the intro song out of touch with the story itself and rather rough on the ear but I am sure other viewers will appreciate the rough rock intro.
Does it have re-watch value? With 16 episodes, each 60 minutes long, I would say it depends heavily on the viewer and how good their memory is. "Live Up to Your Name" is a peculiar blend of genres set on entertaining you with the old world versus the new world of medicine in mind and while the leading characters cement this story and provide you with several hours of entertainment, once you are done with Heo Im and Choi Yeon Kyung a return trip won't be happening any time soon.
Was this review helpful to you?