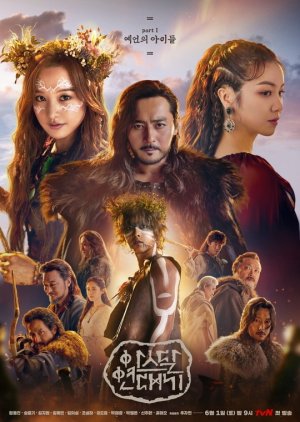 I still don't understand why this is divided into three seasons. "Season One" was not a complete arc so it's kinda hard to review. Realistically it should be Season One with 12 episodes and Season Two with 6. That seems to be how it is organized in Netflix anyway...

My rating here will be for this portion of the drama only. At this point, the drama started out pretty strong, got kinda muddled in the middle, but seems to be picking up again.

I wish it was better organized. I said this in the comments, but the writers, directors, editors - they all tried to do too much. A high fantasy drama is innovative enough in the Korean drama scene, but splitting it into multiple "seasons" did more harm than good. The pacing is all over the place, they established different story-lines faster than others so we had to wait while they caught up. And most importantly, there needed to be way better world building. This is a completely imagined setting with its own groups of people, religion, beliefs, society, hierarchy, government, etc. and the director or some editor or whoever thought occasionally adding captions to explain original vocabulary was enough. It's not. Some of our very important characters are missing important screen time and story development time because of the weird pacing, but it seems that this will be rectified soon in future episodes so I'm not to hung up on that point. This drama would have benefited so much from being longer; the world that they have created is fascinating and it should be fleshed out way more than it was.

The acting is phenomenal and the characters are really interesting. Like I said, I just wish it was better organized.

All in all, it's a good watch. It's not god-tier iconic, but I do recommend it - especially to people who are looking to watch something different.
Was this review helpful to you?