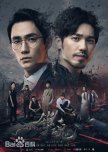 Guardian
3 people found this review helpful
Oh boy, where do I even begin to unpack this mess?
First off, the premise was great. Due to China's censorship about supernatural themes, the writing crew smartly decided to go down the science-fiction path: a spaceship with aliens, a different planet with three main race/species, war between the three - all in all makings of a great science-fiction show, while keeping to the original novel's intentions and message.
And yet.
Right off the bat, what could have been a great entertaining show felt more like a B-grade science fiction movie. The writing was all over the place and it was like the writers couldn't decide what to focus on with so many plotlines and cases running ahead of them. The characters, including Shen Wei and Zhao Yunlan, felt more like empty puppets with a headless chicken controlling them - mechanical and soulless (if not for the two actors' brilliant acting) which is starkly different to the characters in the original novel.
The cast though were so good! Bai Yu especially was able to deliver the inner loneliness of Zhao Yunlan: the way his eyes dimmed every time Zhao meets his father, the way he stares (lovingly) at Shen Wei and the fear pursing his lips in the last two episodes. Zhu Yilong was commendable too for the way he handled two drastically different roles, though sometimes it did seem that there was no difference between the two (I blame that on the writing, to be honest.) Can I just say that the chemistry between Bai and Zhu was just beautiful? It took a few episodes to get the chemistry going and that's a good thing because it's great to watch the blossoming chemistry take center-stage.
It's such a shame that such a good cast was wasted on this cringe-worthy show though.
Was this review helpful to you?
This review may contain spoilers
Just finished this drama ten minutes ago and I'm absolutely speechless.
It wasn't that this is a bad drama or that I felt I wasted 20 hours of my life watching this; it's the exact opposite. Never had I felt this satisfied watching a TVB drama and it wasn't just for the last episode. Even from the first 10 minutes of the first episode, I felt I was in the good hands of a capable writing team as I was led deeper and deeper into the building's corridors and creepy staircases. As the plotlines progressed and the story between Alex/Coco, Siu/Yok-Fai, and Teacher Lam began to slowly unravel, this feeling grew in me and I binged the last 4 episodes in a frenzy.
Hard to believe but this is actually TVB's second foray into urban fantasy (the first being The Exorcist's Meter, but some might put it into the supernatural genre). I think TVB has always wanted to do this kind of drama for a long time but it's either they didn't have the budget or the writing resources to do so. Plus there have been many numerous urban fantasy dramas from other countries that it seemed rather un-creative to do so. This time round, the writing team has struck gold, or rather they learned to make use of what they have in abundance around them - the real, authentic flavor of Hong Kong. What captivated me the most in the drama wasn't the fantastical elements but the characters and the social issues the different plotlines brought out. There was no character that felt like the stereotypical 2-dimension characters we often see in TVB dramas; each of them had their own struggles and motivations that pushed them down into the paths they have chosen. It is no wonder that most of the audience was upset by the way the story about the baby and the 2 mothers ended, or had tears when Gai-ye was combing the doll Mary (which actually housed Cheng Cheng's soul)'s hair. We see such characters on the screen and yet, we can't help but feel that they are breathing, living among us - they could be us or they could be any of our family or friends.
Surprisingly, there was a sparse use of CGI effects in the drama, especially in the first few episodes. But it is for this exact reason that the drama did not fall into the category of B-grade fantasy/science-fiction mindless entertainment. In the first two stories ("Dream" and "Baby"), there was never a direct explanation for the way things happened; it could be supernatural or the schemes of a grief-struck woman or just plain old coincidences. The scenes flow from events to events and it is up to the audience to decipher or connect the dots. As such, it is much easier to induce the feeling of unease in the audience as they continue watching. Also, by getting rid of unnecessary and cringing effects, the drama enables the strong writing to shine through and to focus on the messages/social issues behind the fantastical happenings, like racism, the relentless pursuit of wealth and people's approval.
The acting here is stellar, especially Selena Li who was able to play two different characters in such a distinct manner. Alex is a modern woman, carefree and simple in her wishes and desires; thus Selena's voice is higher and more cheerful when she is playing her. On the other hand, Coco had been through much and her sufferings shaped her into a matured and solitary character; Selena's voice deepens and become huskier in the role of Coco. Even her body language changes from one character to another and this is not something even a seasoned actress can accomplish. I wish the same can be said about Joel Chan. He's not terrible in the roles of both Siu and Yok-Fai - Siu is lovable and earnest, while Yok-Fai is charming and suave (one can see why Coco was so smitten with him), but Selena's performance absolutely outshines his. (Or maybe I'm just biased against him.)
I don't know what else to say without going into more tl;dr but this is a TVB drama that doesn't feel like a TVB drama but undoubtedly feels like a Hong Kong drama, made by Hong Kong, for Hong Kong. And it is such gems that we should support.
Was this review helpful to you?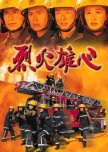 If I could and if I was petulant enough, I would like to give this drama 10/10 just for Wong Hei and Chin Ka Lok.
What actually stopped me from doing so was the way the story quickly derailed into the kind of melodrama I absolutely abhor in the 90s and early 2000s TVB dramas. Messy love triangles? Checked. Jealous, prideful male characters who insist on emotionally blackmailing the women they so-called love? Checked. Mental illness being twisted into something scary? Checked. Unnecessary resorting to suicide? Checked.
Nitpicking aside, the performances by the artistes were top-notch, especially Wong Hei's. It's no wonder he was in all three installments of the Burning Flame series as he quickly grabbed the audience's attention as the passionate firefighter. Tin-Yau's rash and impulsive abandoning of his own safety can be a tad annoying at times but ultimately, we all root for him. Same goes to Chin Ka Lok's Dai-Heng and tragically, Joe Tay's Bat. Even Lee San San, whom I was never really impressed with, managed to win me over in her role of endearing and sweet girl-next-door Yuet.
Ultimately, this is a prime example of 90s TVB dramas and definitely, a lasting memory of many HK citizens. But it is not something I would like to re-watch.
Was this review helpful to you?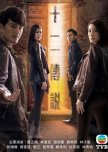 This review may contain spoilers
Urban legends and folktales have always been an interesting topic to me, which was why I was really excited to finally start on this. In just a week, I finished the whole series because the episodes mostly ended on cliff-hangers and I had to watch the next episode immediately to know who's the murderer.
That being say, I was disappointed in two ways. Firstly, the mysteries didn't really focus on the urban legends/folktales, even though the murder plots were based on them. More often than not, the urban legends/folktales merely acted as McGuffins and even then, the stories don't get developed much. Although, it does help that Doctor Poon is a professor in folktale studies and she provides the academic explanations that goes well with her theories. Speaking about her theories, most of them need a huge jump of faith in order to reach them and I can't be the only one who felt that they seemed very illusory and grasping at straws?
Secondly, a series like this is undoubtedly plot-driven. But to sacrifice proper character writing is a huge mistake. All of the characters seem empty and devoid of proper character development. Even Doctor Poon, who underwent an emotional roller-coaster at the end of the series, didn't really feel like she was very much affected by what she had learned (including the truth about her identity and her family). That is not to say Rosina Lam gave a bad performance. I feel that all of the cast did well with what they have been given, especially Rosina who executed her role with poise and gracefulness.
What I actually liked about the show is that it's not framed as a horror show meant to scare but as a form of education, to remind the audience that these stories are a part of Hong Kong's history and that it is important to learn and appreciate about one's culture and history (especially the histories not included in the official national narrative).
All in all, this was a thrilling watch and a great premise, but the writing seems clunky at times and poorly executed. While the poor writing can be a turn-off, it didn't really affected my watching and these are the things that will surely be better, should there be a sequel. Those who are fans of crime shows like Elementary and Bones, which feature intricate murder plots and unassuming murderers, will like this.
Was this review helpful to you?