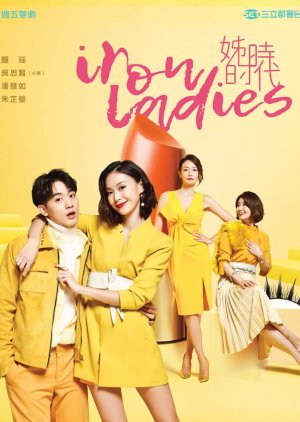 Never have I ever watched a Taiwanese show like this.
There are dramas like "Fated to Love You" which totally makes me get into the shoes of the heroine and hate the hero on her behalf('cause she's being too frustratingly docile) while being completely emotionally invested and trying to binge watch, a truly overdramatic drama. Then there are dramas like "Attention! Love" which is like bubble gum, starts off with colourful ambience then progresses to become so tasteless and draggy that you want to spit it out. Iron ladies is neither of them. It's in the league of "I Need Love" KDrama series and "Sex and The City" in terms of showing strong female leads who don't act all prude and are not shy to express their sexuality. This show is a lot closer to reality.

The three leading ladies are true to the essence of Iron Ladies. They are beautiful, strong, sexy, independent career women who are also managing their a little to a lot messy personal lives. Their approach towards dealing with the issues of their career and love, the compromises they chose to make and not make, their relationship with the men in their lives, and while doing all these how they discover their uncharted facets and become more of themselves and grow up, is the story of this drama. Though sometimes their choices and decisions made them look like desperate and pushover, that's how life and love are, difficult, messy and sometimes ugly.

The script is so tight and the acting is so fine that I didn't lose interest for one moment. I found the acting of this drama different than the usual Taiwanese dramas, in a good way. The characters are well written and performed. All the cast have great chemistry with each other. This is my first time watching Zhong Aviis and I am a fan. This is her first leading role and she nailed it. She and Pan Ada lived and breathed the role of iron ladies.
Wu Ben is as versatile as the makeup palletes in the show. His eyes are so expressive. When doing a photoshoot scene in the show his eyes were like all smart and sexy, whereas throughout the drama they were like a lost puppy. His "smitten at first sight with Ka Ting" expression was so believable.
Lan Gabriel is an amazing actor and so handsome. I found him Hollywood level amazing. His acting is so mature and poised. Everyone is great in this show. This is what I call a perfect show.

The soundtrack is ok, nothing special.

I'll most definitely watch it again.

Was this review helpful to you?