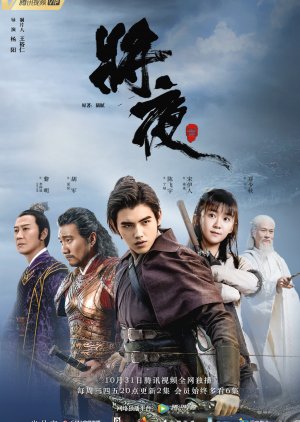 One of the best dramas I've seen in a long time. Amazing film quality cinematography, breathtaking on-location shoots for beautiful scenes of China, stellar cast (how'd they get Adam Chen and Leon Lai??) , and a highly developed world with complex characters and a story that unfolds in a coherent, logical, intriguing way. This isn't your average fluffy, nonsensical cheesy romance. So if that's what you want, then don't watch it. However, if you love a great story with focus and purpose that's driven by strong characters then this is it. Epic is really the best word to describe this drama.

The camerawork is outstanding. You may not notice or care but most dramas are not shot like this. This is theater-quality filming with all on-location and natural weather settings. You can see the snow falling and melting into the actor's hairs. The wide angle aerial shots make those vast desert landscapes and green mountains seem to burst out of the screen. Just for the visuals alone this drama is worth multiple rewatches.

The story is this grand world that's on par with something like Game of Thrones. Deeply detailed with multiple kingdoms and all coherent and well-established. You can tell this drama is based on a well-written novel. The key driving force are the characters of course. Arthur Chen does an amazing job as Ning Que. He is charismatic and fun to watch on-screen. His chemistry with Song Yi Ren (Sang Sang) is fantastic. You can tell he is a rather young actor in some of the scenes that require deeper emotions and subtlety but he really holds his own against super veteran actors and a grand-scale epic story like this. Can't believe he is only 19 with lots of room to grow.

They really didn't skimp on anything for this drama. At a budget of $70 million USD (quite unheard of for tv dramas), everything is high quality. The costumes are realistic and so are the sets (again, money well-spent on those on-location shoots). Also, no poor wire tricks here. The action sequences are again movie quality. Very well choreographed and executed. Each movement is so tightly done and well-executed. For an action buff like me I just couldn't get enough. The thing I noticed the most? The soundtrack. From the opening scene to the various character themes the music is amazing. Just listening to it transports you back to the scenes and characters.

Obviously I can't say enough about this drama. I think I was just taken really aback by how well made this drama is. I haven't seen work like this since HK's Golden Age. It makes me hopeful of many of the C-Dramas that will come out of China in the coming years. Although Arthur Chen is not coming back for Season 2, which is extremely disappointing, I will watch Season 2 if it has the same high production value as Season 1.
Was this review helpful to you?