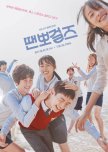 This review may contain spoilers
To say I was surprised is an understatement. I walked into this drama without reading the synopsis, but I figured it would be along the lines of Sassy Go Go or School 2017 ( which both leads had supporting roles in).
Story: Definitely real. At moments, heart wrenchingly real. I watched this all in one go, but I think if I had been watching it as it aired I might have had an issue with the pacing of it.
Acting: Superb. Honestly, I wasn't too surprised with the leads. Park Se Wan has always delivered in her support roles, she just has that presence? It was only a matter of time before she landed a lead. Jang Dong Yoon was amazing as well, he's kind of a veteran to the student role (Side Note: I really want to see him in a drama next year where he is not a student - A Poem A Day does NOT count, he's essentially a student). The chemistry between them was lovely. The supporting actors were impressive as well.
Music: Just so sweet. It melded really well within the scenes. The only reason I didn't rate it as a 10 is because there wasn't any song in particular that made me stop the episode to find and download it and then continue on to listen to it a million times.
Rewatch: I loved it, they did an excellent job with this drama. However, for me this isn't the type of drama I could rewatch.
Overall: Just an unexpected treat to find at the end of the year. The only minor thing is - I really don't care for the time skip trope as sometimes its used needlessly. However I think this drama could have made it work in the final episode.
Was this review helpful to you?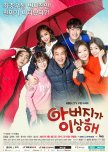 First time reviewing, but I just HAD to because of Lee Yoo Ri. OMG Her acting is phenomenal, she is so ridiculously beautiful and so talented. My god I'm so impressed, she went all out for her character. Literally my favorite actress. I can't even. Can I just be her? I'm literally planning to bingewatch everything she's ever been in. Honestly, I'm so impressed, its hard to put into words because even in some of my favorite dramas no matter how strong the female leads start out they tend to fall in to the helpless victim trope from which the knight in shining armor appears to either throw fists or money at problems and rescue the helpless female. Which I get, like sometimes thats awesome to watch, but srsly we're in the 21st century. I loved the relationship between Jung Hwan and Hye Yeong, because he was there to support her. She's self sufficient and she can fight her own battles, and he was there to cook her comfort food. Can we see this more often please? Because thats real love right there. Just amazing job on creating strong/positive female role models that kick major butt. This applies to all the actresses in the Byun clan.
Which takes me to the next point; applause all around, I loved the relationships between the siblings. I honestly went into this drama because I wanted to stare and Lee Joon's face, I did not expect to fall in love with everyones storylines. Literally, the first episode hooked me. I got extremely invested in everyones happiness. I always go in for the romance but srsly the family dynamic is what stuck out to me. So many little moments that just made me smile.
I very rarely rewatch dramas, but this is one of the few that I definitely will because it makes my heart happy.
INNER PEACE.
Was this review helpful to you?