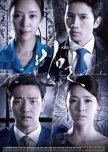 Secret
62 people found this review helpful
Oh my this ONE abused the sht out of my heart!
The acting was amazing. There was so much crying, but each one never lost its value.
It was a btch to get through since most the story was so sad, but I suggest you don't watch it in such a narrow minded view. Put yourself in each characters point of view and try to understand each one because for me that's what made it bearable.
I finished the series in 2 days because I felt so bad for KYJ and I was just eagerly just waiting for her to do her quirky adorable laugh. I really hate sad dramas, but I got a much greater "feel good moment" effect from the little bits and pieces of happiness in this drama then a drama dedicated completely for "feel good moments".
I fell in love with the main couple. Look at my list I usually drop as soon as the main couple gets together but on this one I kept going because I actually wanted them to get closer and closer. To me their love was believable and on episode 15 their was a moment I even cried out of jealously because it is the kind of pure love I truly want.( you will understand when you get there)
What I also liked about this was the deaths weren't just some random conveniently timed events. Each one had a purpose and were connected. We didn't the moments where a character finds something out, and right then they die that usually happens from a out of the blue car accident.. Like that sht makes me go CRAZY!
Re watch value of me was low because I don't think my heart can handle it lol.
Was this review helpful to you?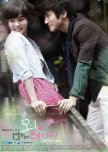 I loved this show so much. Finished in 2 days.
Summary -
Its about Gae Hwa a 30 something year old lady who is having a hard time finding a job and providing for her daughter. She is divorced and due to circumstances has to let her daughter go under her ex husband's, Kim Byung, care until she can find a stable job and get a house. She meets a top star Sung Min Woo through one of her temp jobs and later on finds out a secret about Sung Min Woo that even he didn't know about. This secret brings these two together ( not in a romantic way ).
Positive
Relationship is slow, but there is something really cute happening every time.
Ye Eun so so fcking cute. She is the cutest child I have seen in a drama.
Love triangle and love interest changes
Immature man and older lady relationship- very interesting
Happy ending
Negative
Ending to me was decent not good. It didn't satisfy me enough.
I highly recommend this drama just sooo cute.
Was this review helpful to you?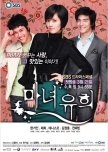 I was really into this drama... at first.
Its a rich woman who is really anal( up tight and strict). She goes on many blind dates which always turn out to be a mess so she hires this poor guy as her personal love trainer. At first I loved the guy and how cheery innocent and nice he was. He is also a wonderful cook and has a hot girl friend.
Now here is the downfall. The characters just become total asses. I didn't mind how the girl changed as it wasn't too bad, but what I hated most and had to drop the drama was because I was raging the whole time after the main male mc just becomes a total dick. He starts cheating and treats his gf like trash no joke fcking hate him !!!!!!
I am so angry with this drama because it ruined my favorite type with a rich girl poor guy romance.
If you have the same taste as my I suggest watching
Snow queen and Take care of the young lady and couple or trouble rather than this sht
Was this review helpful to you?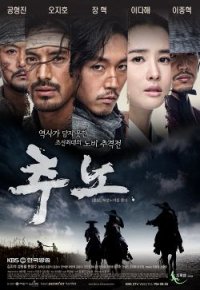 Chuno
9 people found this review helpful
A bit early to make a review, but I am loving this show so much. I will change anything I need to after watching the rest, but I just want to write a intro review.
So far it is.......... FCKING AMAZING !!!
The two categories I hate are usually action and historical because I am usually into cute romance comedy dramas and I thought this would be a sad serous drama with lots of fighting. There is lots of fighting in this, but they are so BAD ASS its so exciting to watch. The thing they do in this though is they balance out the romance, action, and comedy really well. Half the time im luaghing my ass off and the other half im like "holy sht" how are they not killing each other filming this.
The characters are all lovable and very interesting. I usually skip scenes when it is not on the main characters, but all things each character is doing is very entertaining. There are boring parts when the old farts are talking politics, but unlike in some dramas where they talk forever they are pretty short in this one.
As for the acting, I thought it was very believable and done very well. Also the girls are hot. As for the guys I don't think they look that attractive, but im a dude. While watching on viki the girls seem to be drooling over them though especially when they are shirtless base on the comments. I had to turn of the timed comments at times due to it just being "so hot" every time.
The sound track in this is amazing. It is so varied, unlike in some dramas where you find yourself listening to the same dam thing. In this drama you will find things from a sweet calming music to rap to rock, etc. It is just so varied and when they play each piece they actually fit the scene. Like in fighting or chasing parts they may play a fast paced rap scene. This was a first for me hearing rap play in a k drama so it was really fresh and I really liked it.
As for the ending of each episode they are so fcking annoying, I mean they make me stay watching for so long. Like wtf I need to exercise today. I do end up just watching and to balance out the no exercise for the day I just tell myself " don't eat now I can say fck them calories I got none to burn ". If it was school time right now I would definitely skip. I already can barely study, and with this sht in my mind I couldn't even think of studying.
As for right now I would definitely recommend this drama ( based on the start ), but I will finish it first and edit if needed, hopefully it isn't gonna disappoint me.
Ep 22- still loving it, lots of sad parts though, but still maintains the comedy to balance out your rage. Which is fantastic for me because I can't handle being pissed off again and again like some dramas make me.
Was this review helpful to you?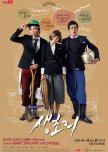 This review may contain spoilers
Contains some SPOILERS in the third paragraph!!!!!!
This drama was very enjoyable and it kept me watching it through until maybe around episode 15 I feel kinda sunk due to the romance, but the comedy was very good from beginning to end.
If I rated this base on just a comedy show I would give it a 10 because my god it was funny as hell. This is also a mystery show which shows up every once in a while, but seems to be sidetracked most of the time because the show mostly focuses on the office workers and there relationships. I did like that small side of seriousness to it because it gave me time to breath from laughing so much.
My problem was with the characters and romance. I did like all the characters they were all very funny and enjoyable to watch, but my problem was with Mr.Jo and the female lead. At first Mr.Jo starts of as a guy who is just cold and doesn't give a shit about peoples feelings, but later on changes due to the female lead. I do like the cold bastard to a nice guy change usually, but the way they made the change here was a bit to sudden. He goes from calm and collected one day to crazy desperate the next day. The way he gets jealous was funny, but same time annoying as he took out his anger on others.
Also I hated how the main lead female cared about the feelings of Victoria one second then the next she just suddenly forgets. Like what the fuck. I just feel the changes to these two characters were way to sudden and should have been developed more slowly.
As for the acting, I found it to be decent except for at times the crying and reactions to serous shit ( like death ) were pretty terrible. The crying though I think they just made it bad to be funny, but that is just how I took it.
I would definitely recommend this show, I feel it is a bit underrated and should be more popular.
Was this review helpful to you?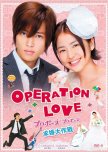 I really ended up liking this drama, but it was very very annoying.
Its about ken who travels back in time to the locations of pictures that are shown in Rei, girl he is madly in love with, and Tada,guy she is marrying, wedding. He does this to try to change the outcome of his relationship with Rei.
This does get very repetitive later on, but it is worth it.
The interruptions to his confessions are ridiculously stupid at times and too fcking coincidental. It makes you want to drop the show, but these interruptions will be well worth it because when his final confession finally gets heard it is very satisfying. I was actually crying because you could feel the pain he was feeling. I think if his past confessions had gone through it wouldn't have had such an emotional effect as his final one. So even though you will probably be cursing and hitting your head to the wall it is well worth the wait.
I rated the acting an 8 due to some silly times he would clasp his hand to his mouth when he was shock. And the way he acts right when his about to time travel. Its very silly, but I think that was probably just a comical thing they put in on purpose.
Rewatch value is a 7 due to the repetitive time travels.
Over all I did like this drama and i give it a 8.5/10
Was this review helpful to you?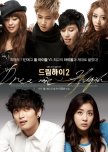 I watch dream high 1 I thought it was good till the pairing I wanted didn't happen. But it did still hook me and ended up watching it in 2 days.
As for dream high 2 I hate every character from the btchy teacher to more btchy teachers to btchy idol. I hate the main girl I find her so annoying how she obsesses over JB even though the guy is a douche. Also she blames jin yoo for her not getting her shot but she should be blaming herself for sucking asss. The only character I do like is jin yoo jin and he doesn't get enough screen time. I love it when he sings because although I dont know what the fck his saying it still sounds amazing. Oh and I do like the disgusting principle I find him very funny.
Through out the 5 episodes I did watch I found myself bored through out and skipping and skipping. The plot of the btchy actress is boring sht.
I did like the music in this though so that i gave an 8.
I pretty much just dropped it. I don't want to see jin yoo jin end up with that annoying main character.
I just really desliked it like most people have.
Was this review helpful to you?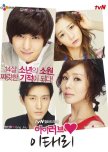 I did enjoy this very much. I havn't finished it yet, but pretty far enough.
It is filled with very cute moments, but also cheesy ones. As for me I did not mind the cheesy parts as most the time I found them funny or really cute, so I actually enjoyed them.
The show is pretty much about 14 year old Eun Dong changing into a 25 year old in one day. The way he is portrayed as a 14 year old boy in a 25 year old man body is very good. You will see how his mental age comes to play.
There are several love changes and love triangles throughout which I really did enjoy. As well as a really cute support character couple.
Also Eun Dong has so much charm with his childishness and the way he cheers people up with his words and actions is very cute and romantic. The thing I got tired of though is it got pretty repetitive. The way he cheers up Lee Tae Ri like every time is the hand holding followed by a bunch of promises.
The thing that may bother people though is that he is 14 and Tae Ri is 28. It did bother me at first, but he is so charming and way more mature for his age. I mean 14 isn't too bad, just 4 more years and he is considered an adult.
I would recommend this show for someone looking for cute, innocent, and slow romance.
Edit - Pumping it up to a 9 because I really liked the ending.
Was this review helpful to you?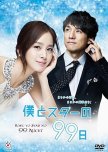 Although I haven't finished the drama yet I found myself really liking it.
You will enjoy this drama if you don't take it seriously.
What I mean is just relax and watch. Enjoy the comedy and the slow innocent romance. Also don't expect the unexpected because you will probably see them coming.
This drama resembles a harem romance anime if you have seen one. One male character and 3 girls falling for him. two are just background characters that don't really get much screen time and one is focused a lot.
The characters in this show are so lovable.
+ main girl- just so nice and innocent. She is a bit bratty at first, but that side of her gets really cute. She kinda is a little bit of a tsundere (acts tough and mean towards the one she likes) character. She is also an idol.
+main guy- saves the day,clumsy,very very very dense when it comes to romance because he is only into stars ( the ones in the sky not the ppl on tv ).
I liked the soundtrack as well and due to the cuteness and innocence of this drama I would watch it again later on when I am bored.
Was this review helpful to you?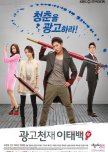 Eh at first I actually did like it. I really like how the main couple was really cute being just friends and all. I really respected the main male mc as well he was a bit stubborn and arrogant which I usually hate, but the thing that is different is his really nice to the girl and to people in general. When there is an arrogant male mc there usually a jack asss to everyone so this was refreshing for me.
Story wise I kinda like it at first, but as it carries on kinda gets boring with just a new ad after another.
Music- I felt the same song was overused over and over again.
Characters-The main male mc I did like at 1st as well but later on he starts becoming a little too clingy to the girl which was annoying. I actually did start to like the main female mc and the 2nd lead male together they were really cute in the arcade scene. The thing I don't get is how the bitchyy 2nd female lead became so obsess with the 2nd male mc. I must have either skip it or just came out of no where.
Rewatch value some cute parts but most the time I find my self skipping due to many boring scenes.
Was this review helpful to you?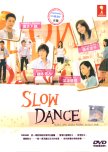 This review may contain spoilers
some SPOILERS
Well I did like it at the start,but then later on I started to hate every main character.
1st Mino seems innocent at first, but she leads on 3 guys and just toys with them.
2nd Eisuke fck him I hated him so much. Just a playboy,but he acts like a decent guy which pisses me off even more. He shows no guilt. He has sex with one girl, he leads one girl on, and has a gf. I just hate him.
3rd Isaki she was fine I really like her. She is quirky and really cute at times.
4th Riichi he is also a decent guy, but I hate how he gave up his dream with such a lame ass excuse.
Was this review helpful to you?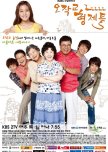 This is a warning more than a review.
If your someone who can't handle being angry for more than 13 episodes then I suggest you skip this drama.
The whole time I have been watching I only feel bad for all the sht happening to Ja eun. I would be raging because all the sht happening to her is due to mostly the Hwang family. Most of them are just fcking rotten, mostly the mom. While they live happily she gets all the sht.
The whole time I was raging due to the adults.
The step mother who cheats and leaves her child.
The grandmother who is just a crzy btch.
The second brother who is just a jack ass. Steals from his brothers work.
Then the big one, my god I can't handle the mother of Tae Hee. She is someone who doesn't deserve death, but someone who should burn in eternal flames forever and have the pain increase over time. God I wanted her to die so much. Even with the comedy and the awesome Tae Hee I just couldn't stand her.
She is most of the reason I am dropping. I hate watching dramas feeling angry for so long. Thats just me, but if you can handle it and are patient you should give this drama a try.
Was this review helpful to you?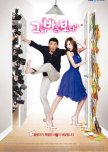 Kinda just dropped this at episode 3
Well thing that made me drop is the male mc.
You may like him though if your tired of those arrogant rich guys because he is refreshing.
The show I found was pretty funny especially the male mc right from the start.
The thing is though I couldn't take him seriously and found him to much of a little btchh. Too dam nice and spineless.
For me I prefer male mc that are not arrogant or like the male mc in this drama but male mc that are respectable and cool. So for me watching someone like this was torture.
Was this review helpful to you?